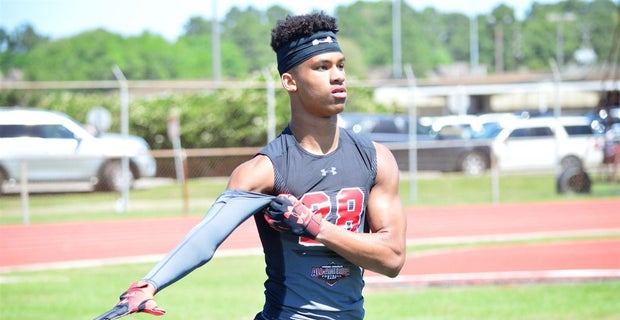 Four-star cornerback and Florida State recruiting target Marcus Banks will be visiting FSU on an official visit the first weekend after the season ends. Banks, from Houston, Texas, will be in on campus the weekend of November 30th to December 2nd.
Banks s is a legacy recruit and the son of former FSU offensive lineman Bobby Meeks, who played for the Seminoles from 2000-2004. Banks was previously a commitment to LSU before decommitting and re-opening his recruitment last month. FSU assistant David Kelly is the primary recruiter on the talented corner from Texas.  Banks says he has, "been in frequent contact with the coaching staff" since he was offered two weeks ago.
What does Banks want to see when he gets to Tallahassee?
"Nothing in particular, just to get around the players and get to know the coaches and look around campus," Banks told Zach Blostein of Noles247.
In March, Banks' father and former 'Nole, Bobby Meeks, passed away after complications from surgery. This will be Banks first trip back to Florida State since his passing. Banks likes the idea of following in his father's footsteps.
"It would be cool to play at the same school my dad did because that would keep the legacy going," he said.
The FSU coaching staff was impressed with Banks' senior film and feels he could help fix what's going wrong in their secondary.
"They've just been trying to get me up for a visit and telling me that I'd be a great fit for the program," Banks said about FSU's recruiting pitch to him.
Banks has taken official visits to Texas A&M (April 27), LSU (June 8), Alabama (September 22), he'll be at FSU on November 30th and then a fifth and final official visit to Florida on December 7th.  Banks has stated that he plans to announce his decision at the Army All-American Bowl on January 5th.  He has not named a leader or favorite since his decommitment from LSU.
Marcus Banks is a four-star prospect, the 29th ranked cornerback in the country and the 267th best player overall, according to the 247Sports Composite Rankings.