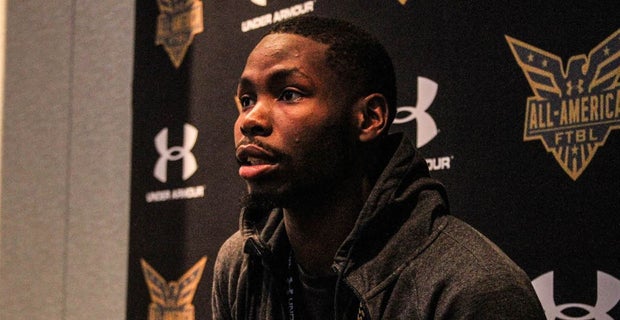 ORLANDO, Fla. — Florida State commitment Brendan Gant did not sign with the Seminoles during the Early Signing Period. The four-star prospect from Lakeland (Fla.) Kathleen explained his decision to wait until February to sign his letter of intent.
"I didn't sign because some of my teammates are still waiting on schools to hit them up and I just wanted to sign with them," Gant told Noles247 during check-in for the Under Armour All-America Game.

"I'm going to take a couple of my officials, but I'm pretty much set, solid," Gant added.

Gant is considering a pair of visits right now.

"Miami and LSU," Gant said. 
"I heard a lot of good things about LSU and I want to go see the city," Gant continued. "My dad went to Grambling, so I want to check things out.
"I've also been talking with Miami a little bit, so I'll probably stop by there too," Gant added.
Despite the fact that he's going to take a few visits, Gant says FSU fans don't have to worry about a flip.
"It's the foundation I got with the staff and the relationship I have with other commits. FSU is where I want to be at, I want to be a 'Nole," Gant said.
Gant enrolls at FSU this summer. He's already counting down the days until he leaves for college.
"It's going to be new, I'm going to college, I'll be a freshman. I've heard how great college is, so I'm looking forward to the experience."