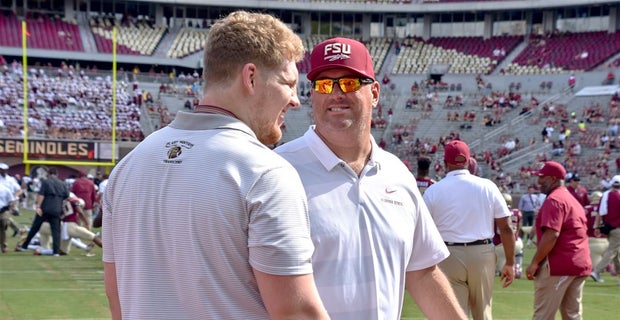 The early signing period began on Wednesday and while most recruits have already announced their decisions, there are still two days left until the signing period closes. Today, Tampa (Fla.) Plant four-star offensive lineman William Putnam will make his college choice in front of his teammates and classmates during a ceremony in his schools field house.
Putnam, 6-foot-4 and 280-pounds, is the 4th ranked OG in the country and the 78th best player overall, according to the 247Sports Composite Rankings.
UPDATE: Dec. 20 at 12:20 p.m. Eastern – John Garcia has arrived on the scene
12:27: The table is set up and there is a banner that says "Congratulations" hanging on the wall behind where the speakers will sit.
12:32: We are told William Putnam just walked to the back to call the schools and inform them of his decision. Looks like there will be four others committing today as well. 
12:37: Teammates and parents beginning to gather in the Plant High fieldhouse. Putnam's parents and grandparents are here. 
12:38: From Josh Newberg – "I just overheard his mother say that 'we haven't known long' when a family friend asked them if she knew. She seemed to give off the vibe that this was a tough decision and ultimately it was 'his decision.'"
12:40: From John Garcia – "Putnam's grandparents traveled down from Ohio to make today's ceremony. ' And I still don't know!' his grandfather said of the impending news."
12:42: Some student votes coming in for Clemson. Of course TIFWIW considering all the students at Trey Sanders' deal were heavy on Texas before the Horns didn't finish in his top three.
12:49: More students and family starting to arrive. There are five players signing, Putnam is the only one that is uncommitted.
12:54: Putnam looks super relieved after informing the staffs of his decision. Ceremony less than 10 min away from kicking off
12:57: Putnam looks like he'll be third to announce, if they go left to right as the table is set.
12:58: A couple family members/friends walking in with FSU gear
1:01: Well over 100 people crammed into the Plant HS fieldhouse as we get close to beginning
1:03: Looks like they are ready to get started with the ceremony
1:05: The ceremony has begun, coach Robert Weiner speaking now.
1:07: Was a short delay because of problems with the sound at the event, but back on track now.
1:09: Coach speaking about the players, their families and what today means.
1:11: Format update – Coach is setting the table for the ceremony. There is going to be a video for each player. Then they will talk about each player and then they will conduct their signing. 
1:15: Video segment has begun and should last for a few more minutes
1:21: highlights still running…
1:22: Putnam presented with a State Champion wrestling ring mid-way thru ceremony.
1:25: Highlights are complete. 
1:27: We are a few minutes away from Putnam announcing.
1:28: Walter Wilbon, Ohio commitment signing now, Putnam up next.
1:33: They skipped Putnam. So going right to left down the table, Putnam was third, but now they're going around him. Building the suspense.
1:35: Now we are at the farthest left side of the table as Leonard Parker, USF commit, is set to sign.
1:39: Putnam is up now
1:46: Putnam is speaking.
1:47: William Putnam has announced he is committing to CLEMSON.
Over the course of the past two years, Putnam has received over two dozen offers from teams around the country. The main programs battling for Putnam as he sits down to sign his Letter of Intent are; Florida State, Clemson and Auburn.
Putnam took official visits to all three schools this fall. He was at Auburn on September 14, Florida State on October 19 and Clemson November 16.
As Putnam's big moment approaches, the Crystal Ball shows FSU in the lead with 56% of the predictions, followed by Clemson at 39% and Auburn with 6%.