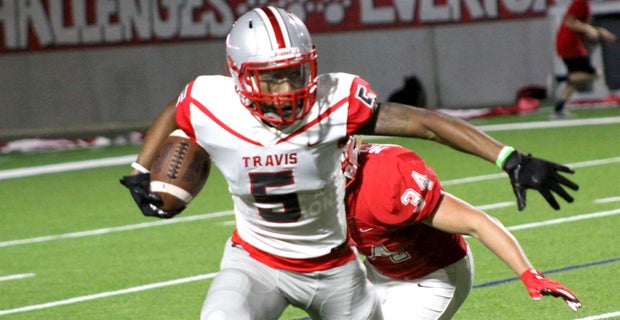 ORLANDO, Fla. — Florida State is looking to add another wide receiver to their 2019 recruiting class and four-star Arjei Henderson is one of the coaching staff's top targets. The 6-foot-1 pass catcher from Richmond, Texas is highly considering the Seminoles.
"They [FSU] show a lot of love, a lot of true genuine care. I've built that relationship with them previously, being committed to Oregon, now that they're at FSU, our relationship has moved across the map," Henderson told Noles247 at check-in for the Under Armour All-America Game.
Newly appointed FSU offensive coordinator Kendal Briles has already reached out to the Texas receiver.
"When coach Kelly and coach Taggart brought me up to [Briles], he had already heard about me and knew. He got on the phone with me immediately and had a chance to catch up. I look forward to getting over there to meet them in person," Henderson added. "He likes to get his playmakers in space. He likes to get the ball in the hands of his playmakers. If you are 5-9 or 6-4, he's going to get you the ball and give you an opportunity."
Henderson has a history with Willie Taggart. He committed to Taggart at Oregon in July of 2017 and decommitted shortly after Taggart left for FSU.
Henderson would go on to commit to Oklahoma in April of 2018 and that commitment lasted until late November.
"When I opened my recruitment back up, they were one of the first to contact me," Henderson said of FSU.
Henderson has an excellent relationship with FSU receivers coach David Kelly.
"He has true character and is like a father figure to me. He wants to see you prosper as a young man. He cares for me as a human being, that stands out."
The Seminoles will host Henderson on an official visit on January 25th, it's the only official visit date that he currently has locked in.
Being from Texas, Henderson is familiar with a few of FSU's current players.
"Marvin Wilson, Dontavious Jackson, I got a strong relationship with them. They come from the same area I come from. Even before FSU recruited me, they've been good mentors for me. They're supporting me wherever I go, but they're doing a good job of recruiting me [to FSU]."
In January, Henderson plans to officially visit Florida State, Penn State, Florida and Georgia.
He's taken one prior official visit and that was to Oklahoma in April.
Henderson says he plans on making an announcement at the Under Armour All-America Game on January 3rd. The game kicks off at 6 p.m. on ESPN2.