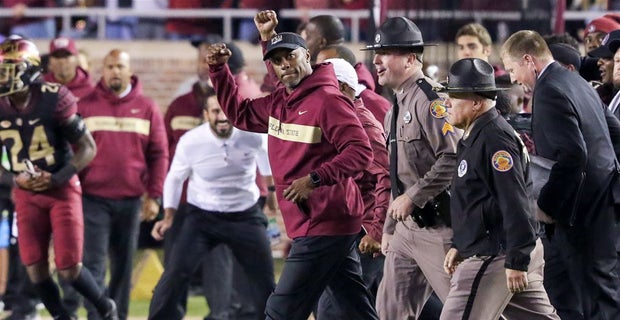 TALLAHASSEE — Florida State's 2019 recruiting class has wrapped up.
With the dust settled, we can put what FSU did on the recruiting trail into proper context. The goal of this article is to provide perspective and facts about the 2019 class, rather than spinning narratives or telling readers how they should feel about the 2019 haul (if you'd like opinions, we've addressed thoughts on the 2019 class in recent podcasts, a superlative list, and in other places over the past week). We will attempts to address some common narratives with facts.
Just the facts
FSU signees: 21
Five-star signees: 0
Four-star signees: 9
Three-star signees: 12
Blue-Chip (4/5 – stars) Percentage: 42.85%
National Class Rank: No. 18
Now, for some perspective on noteworthy topics…
–FSU had 9 recruits rated four stars or better based on the 247Sports Composite Rating. There were 17 other teams nationally with more blue-chip recruits in this class.
–FSU's Blue-Chip Rate in this class (42.85%) was the lowest since 2010, when the Seminoles had a Blue-Chip Rate of 40.09%. FSU did not have a Blue-Chip Rate less than 50.00% from 2011-18. (For more on the Blue Chip Ratio, check out this article from SBNation).
–FSU was one of seven teams to 1. Finish with 6 wins or less and 2. Be ranked in the Top 25 nationally this recruiting cycle (No. 12 Tennessee, No, 18 FSU, No. 19 Nebraska, No. 20 USC, No. 22 Ole Miss, No. 23 Arkansas, No. 25 Purdue). In the past five recruiting cycles, a team with 6 wins or less has put together a class ranked 25th or better 24 times (average: 4.8 per cycle). The average Top 15-ranked team in this cycle had 10.4 wins. The average team ranked from 16-25 (in FSU's range) had 6.1 wins.
–FSU, even without the addition of Nick Cross, put together the best secondary classes in the country: 4-star CB Akeem Dent, 4-Star CB Travis Jay, 4-Star S Brendan Gant, 4-Star S Raymond Woodie III, 3-Star CB Malcolm Green, 3-Star CB Jarvis Brownlee. Those six commits account for a score of 126.66 using the Class Calculator.
Comparatively, the position score for the following teams goes as follows…
Alabama: 125.13
Clemson: 123.54
USC: 119.74
Michigan: 117.11
Texas: 113.29
Texas A&M: 113.09
Tennessee: 110.44
South Carolina: 109.32
We'll be happy to address questions, provide opinions and more in the thread accompanying this piece.