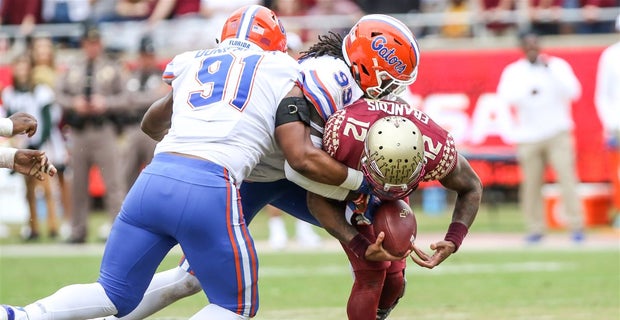 The last time Florida State scored at a lower rate than it did in 2018?
Ronald Reagan was president then.
The last time Florida State was less efficient running the ball than it was this season?
Man had just landed on the moon for the first time.
The last time Florida State allowed more points per game than this year?
Well, never.
The Seminoles (5-7) were dreadful in several areas this season. In at least one aspect — points per game — they were historically bad.
Noles247 takes a look at how the aspects of FSU's 2018 season stacked up when compared to previous seasons. Going back to 1960 (when Bill Peterson was hired and FSU began making moves to becoming a factor in the national football picture), and using data from Sports-Reference.com, we try to put some of the poor production into perspective.
*Please note that we avoided the use of total points/yards because these totals can be skewed significantly by number of games played in each season.
Yards Per Carry
FSU averaged 2.79 yards per carry this year, the worst average among all Power Five teams.
The Seminoles have had low YPC averages in other years, but have only once averaged less than 3.00 yards per carry prior to this season based on our research: That came in 1969 when FSU averaged 2.5 yards per carry.
What was going on in 1969?
– The moon landing was kind of a big deal.
– There was a sizable music festival held on a dairy farm in New York by the name of Woodstock.
– Richard Nixon was the president.
– Brett Favre was born.
FSU allowed 8.58 tackles for loss per game this season, the second-most of any Power Five team. The lack of consistent room for running backs to work with played a major factor in this lack of production on the ground.
It's worth noting that Willie Taggart teams averaged 5.2 yards per carry or better from 2015-17. So was this year an anomaly for Taggart's tenure at FSU? Will the Seminoles get better if they can improve the offensive line through recruiting and development?
 
Points Per Game
FSU averaged 21.9 points per game this season, which is 115th nationally.
The last time FSU averaged less points per game was in 1981 when they averaged 21.8 points per game. The Seminoles have only averaged less than 25.0 points per game one other time this millenium (2007).
"Bette Davis Eyes" by Kim Carnes was the top song back in 1981, per the Billboard Top 100.
MTV first launched that year and a future musician by the name of Justin Timberlake was born then as well.
Points Allowed Per Game
FSU surrendered 31.5 points per game, believed to be the highest average in the history of the program.
The previous high came in 1973 when FSU allowed 30.1 points per game (it's also worth noting that the 2009 defense allowed 30.0 points per game).
FSU's defense was not helped by an inept offense that frequently put the unit in a bad position — the Seminoles entered this past week with the worst average starting field position allowed in the country — but the Seminoles were also prone to giving up chunk plays through the air (49 passes of 20+ yards allowed, 117th nationally) and gave up 30 passing touchdowns (second-worst among all Power Five teams).
Other history notes
– The last time FSU lost seven games? 1975. The Vietnam War ended that year.
-FSU lost by 49 points to Clemson earlier this year, tying for the largest margin of defeat in program history (and setting a record for the largest margin of defeat at home). The last time FSU lost by 49 points was to Florida in 1973, when the Seminoles went winless.
There were a myriad of factors that went into this disappointing season, and we'll reflect on the reasons why the Seminoles struggled in the coming weeks while also outlining how a turnaround can be achieved. But for now, this story is meant to provide perspective on how uncommon some of these results are in the rich history of FSU football.