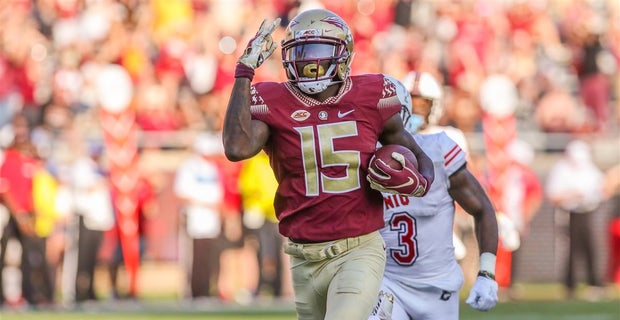 TALLAHASSEE — Florida State wide receiver Tamorrion Terry has made a habit of staring directly into the eyes of the cornerback facing him this season.
In the few seconds before the ball is snapped, Terry can learn a lot about the man defending him.
Is he confident? Or is he scared of Terry's blazing speed and 6-foot-4 frame?
Even just a couple months ago, Terry wasn't necessarily sure of himself to make that sort of assessment.
"I don't think he knows how good he can be, yet," senior receiver Nyqwan Murray said of Terry back in September. "But I remind him all the time…I tell him, 'no one can guard you, dude.' With your type of speed, your type of height, come on. In one-on-one coverage? That should be a walk-in touchdown every time."
Now, Terry knows what he can do.
So do opposing defensive backs.
Sizing them up, Terry can quickly diagnose whether they're ready to deal with the inevitable: A vertical pattern downfield, with the redshirt freshman gracefully streaking toward them…and often, past them. This was the case in FSU's 47-28 loss last week to N.C. State as Terry recorded 142 yards and two touchdowns on just five catches.
"I just looked in the DB's eyes, he looked scared," Terry said. "He ain't want to guard me. Then he ain't say nothing to me the whole game, so I just knew he ain't want to be out there with me. I just told Coach Tagg, 'Come to me.'"
Willie Taggart, responding to Terry's request on the sideline, looked to quarterback James Blackman and said "you heard him."
Terry, a year after inexplicably redshirting under the previous regime, has emerged as one of the country's most explosive receivers. FSU's offense has struggled to find consistency this year, but Terry has been a bright spot as he's fourth nationally with 21.96 yards per reception (23 catches for 505 yards and seven touchdowns).
"I wish everybody played like him," Taggart said. "I wish our o-line, our quarterback, our receivers, linebackers. I wish everybody played like the kid. He makes plays out there for us."
Terry is a clear building block for Taggart as he tries to navigate FSU (4-5, 2-5 ACC) through a turbulent first season under his tutelage. The encouraging aspect for Taggart and FSU isn't just that Terry's upside is vast, but that his humble beginnings also ensure a baseline of humility and passion that should push him to keep improving.
 
"Where the hell Turner County?"
Ben Simmons and Cory Brown know a special talent when they see one.
Both coaches cut their teeth working at Jacksonville's Raines High. Simmons won a state title there as a defensive coordinator in the 1990s while Brown served as a recruiting coordinator at the program more recently. The school has produced future NFL players like Brian Dawkins, Jabar Gaffney, Lito Sheppard, Derrick Alexander and Louis Nix in the past couple decades.
Simmons was hired to take over a school in the rural south Georgia town of Ashburn in the spring of 2015. Located just west of I-75, the city's population is at about 3,700. Some athletes have come through the area, but Turner County High was known more for its basketball program, with its last Division I football player coming in the 1980s.
Shortly after he was promoted from defensive coordinator to head coach, Simmons approached Brown to work as his offensive coordinator and receivers coach.
"Where the hell Turner County at?" Brown asked Simmons.
You can drive through the city of Ashburn and count the amount of traffic lights on one hand. For some kids, heading south about 30 minutes to Tifton, Ga. and hanging out at the 24-hour Walmart is a key ingredient to a good time.
Brown recalls seeing Terry experience many firsts during their time together. Terry saw the ocean for the first time when he went with Brown to the Jacksonville area. And he found out what Popeyes chicken was when they went to an FSU game in Tallahassee (it's now a go-to for him and Brown after games, along with Hooters.)
"There ain't nothing for them kids to do," Brown said. "It's a real, small country city. And Tamorrion stayed in the projects."
There was buzz about Terry in Ashburn for years before he got to high school. He was a physical specimen even playing basketball in the city's rec league, blowing past his peers with ease.
"He would just take over…He was unstoppable," said Blake Christian, who does play-by-play of Turner County football games on the radio with his brother, Brad. "You could tell he was going to be a stud."
Brad Christian recalls a playoff hoops game in Terry's sophomore season in which he recorded 33 points and 22 rebounds. He was also intercepting passes and returning them for touchdowns as a freshman on the varsity level.
"By the fall of 2013, he was already a freak of nature," Brad Christian said. "He was already the most gifted player on the field."
Simmons knew what he had in Terry: An absurdly talented, yet raw player who needed steady guidance to be properly developed. So Brown was hired to help mold Terry and to also get him on the camp circuit so colleges could learn about him.
Watching Terry on tape from his 10th grade season, Brown thought to himself "Oh Lord, who is this kid?"
And then he saw Terry in person. Somehow, he was even more impressive live. Terry was a strong, fluid athlete with the 'yes sir, no sir' attitude that coaches love.
Simmons and Brown had a ways to go with Terry, but there was a ton of talent to work with.
"Some wide receivers now are pretty boys and prima donnas," Simmons said. "But with him, he liked to get down and dirty, He'd get in the shoots with the offensive line, and he'd win plenty of battles.
"There were amazing things that he'd do as a player. But coming from a small town, in Ashburn, Ga., I don't think he knew how special he was."
Local Celebrity
One thing Brown noticed upon his arrival in Ashburn was how little players from there traveled. They didn't go on the camp circuit by themselves — Brown remembers Terry working at a farm to get money for school clothes and shoes, so his extra cash went there, not to football camps — so the new staff was determined to get them exposure.
Terry got just that during a camp at Auburn.
Brown was watching Terry run the 40-yard dash from afar and noticed that he stumbled coming out of his stance.
Still, three Auburn staffers quickly swarmed Terry as he finished the sprint.
"He ran a 4.39 with lasers. And he stumbled," Brown said with a chuckle. "They wanted to know who he was, what team he was with."
Terry, along with current Florida State teammate Ontaria Wilson, took off as juniors. They played both ways at Turner, with Terry learning the nuances of receiver — he was used as a Wildcat QB the previous year — while also getting reps at defensive back.
In the week before a game against Dooly County, Terry was used to simulate a blue-chip defensive end, Antonneous Clayton.
"This is a cat, there was no one who could emulate him but Tamorrion," Brown said. "He did so well there that we put Tamorrion at defensive end that night, and he had 4 sacks. This was 11th grade year now. He's a freak. I haven't seen anything like it."
College coaches began stopping by Turner County High, making Terry a star locally.
By the time he was a senior, Terry was regularly sticking around after games to sign autographs for kids. Terry's younger brother, Keonvay Clark, played basketball in middle school for Brown. One game, Clark was wearing a knee brace on the same knee Terry sported a brace.
Terry asked Brown to take his brother out of the game for a minute so the two could talk.
"'Take that knee brace off, there's nothing the matter with you,'" Brown recalled Terry telling his brother. "He just wanted to be like Tamorrion so bad."
"He became a local celebrity," Brad Christian said. "It's a good thing for kids coming through now. Ashburn is a rural town, and Turner County is not the richest county in the state by any means. Younger kids look up to Tamorrion with him up at the DI level. 'Maybe I can achieve those goals.' He's a leader for these kids."
Terry ultimately picked FSU over Auburn and others. Alabama made a late push for Terry as he approached academic eligibility, and Brown remembers Nick Saban being irate with staffers because he didn't know about Terry until late in the recruiting process.
The Seminoles' previous staff thought it found a pair of hidden gems with Terry and Wilson, and they proved to be correct.
Both ended up redshirting their first year on campus. For Terry, it was a frustrating time because he thought he was capable of helping FSU out last season.
Upon his arrival in December, Taggart started roaming the sidelines to watch FSU players practice ahead of the Independence Bowl. He kept seeing No. 15 score, and was perplexed that he wasn't playing.
Terry kept scoring during spring practice. He had his ups and downs during preseason camp, but he made a promise to Taggart ahead of the 2018 season.
"Tamorrion promised me…he was going to be everything we thought he can be. And he's living up to it," Taggart said. "And I'm not saying just on the football field but off the field, in the classroom, he's just stepped his game up. I mean you talk about maturing, he made a commitment to himself that he was going to better himself personally and athletically and it's paying off for him."
Said Brown: "I'll tell him, 'don't disappoint people. They've never had nobody.'…Everyone always thought if someone was gonna make it out, it was gonna be him."
Simmons has since moved on from Turner County and is currently a position coach at Valdosta High. But before he left Ashburn, he noticed a lot more FSU flags and banners around town.
The Christian brothers make sure to watch FSU games as often as possible, with Blake having made his way to a couple games this season, and they aren't alone.
"When he scores a touchdown, Ashburn scores a touchdown as well," Simmons said. "You just didn't know if Terry and Wilson understood that at Turner, that dreams could come true. I know they do now. …Tamorrion really sees it now."