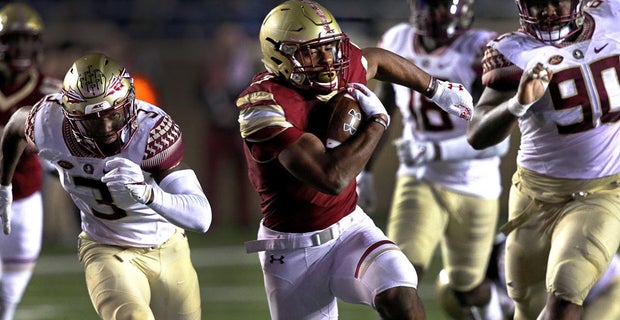 TALLAHASSEE — What is the remedy for Florida State's reeling run defense?
Probably not a steady dose of Boston College running back AJ Dillon.
The Eagles (7-3, 4-2 ACC) come to Tallahassee on Saturday and bring a bruising rushing attack that is fueled by Dillon, one of the country's most physical backs.
"They like to run the football. Head coach [Steve Addazio] is a former offensive line coach. This is the second guy we've faced like that I know of, the Northern Illinois guy was an offensive line coach as well and so they're going to do what they feel comfortable doing," said FSU defensive coordinator Harlon Barnett. "They do a good job at it. They're well coached. They've got a big back that runs hard. It's going to be a major challenge for us and we'll be ready."
FSU's run defense, once ranked in the top 10 nationally in yards allowed per carry, has regressed in recent weeks and is coming off a performance in which it allowed 365 yards on the ground against Notre Dame.
Finding a way to get a strength back to being, well, a strength is a must for FSU if the Seminoles (4-6, 2-5 ACC) are going to find a way to become bowl eligible.
Coach Willie Taggart, when asked about FSU's recent regression versus the run, pointed to scheme, poor run fits and tackling issues as the reasons for the setback. He also noted that FSU struggled lining up against Notre Dame, leading to missed assignments for the Seminoles and chunk runs for the Fighting Irish.
"[We will] simplify some things so they can line up and just play football," Taggart said. "Like I said we know they're capable of doing and they have shown that they can do it, we got to help them."
This is easier said than done against a BC team that has a cohesive offensive line and uses heavy sets with extra tight ends to carve out room for the 6-foot, 245-pound Dillon. The Eagles are not flashy as their top priority is run into the teeth of a defense, but they can create confusion with misdirection looks and play-action passing.
Dillon is averaging 117.00 rushing yards per game, which is ninth nationally. The Eagles are reliant on the big back and have struggled when he's been limited or out of games this year with a nagging ankle injury.
But when he's right, Dillon is tough to step as FSU experienced last season. Dillon ran for 149 yards on 33 carries, serving as a battering ram that broke the spirit of FSU's defense as the Seminoles fell 35-3 on the road.
"Me personally, because I wasn't here last year, I try not to talk about it," Barnett said. "I've heard stories from different coaches. I do know we need to play a physical football game based on what we've seen them do this year."
Can FSU answer BC's physicality?
"You know going in it's going to be a physical ball game, you can't bow down to that physicality. You got to face physicality with physicality," Taggart said. "That's football. Again, that's, we want to be known for the same thing and but you got to face it with the same mentality of going in being physical and getting after the guy in front of you and it's a challenge for our guys and they know it."