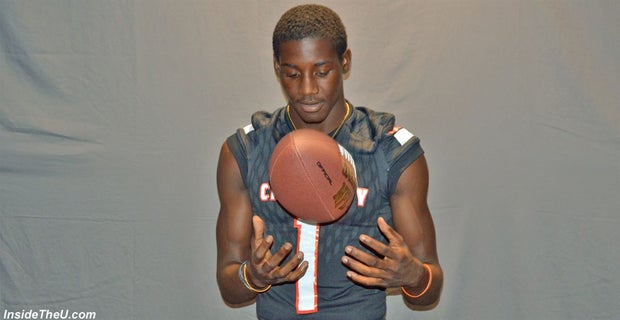 Florida State landed a new commitment on the Early Signing Day from Opa Locka (Fla.) Carol City three-star defensive back Jarvis Brownlee. The 5-foot-11, 170-pound cornerback decommitted from the Miami Hurricanes less than a week ago and signed with the rival Seminoles on Wednesday.
With three hats on the table — Miami, FSU and UCF — Brownlee announced he'd be "taking my talents to Florida State University!"
"I just feel blessed and I'm happy God put me in this position," Brownlee told Zach Blostein of Noles247 shortly after he announced his decision.
Brownlee took an official visit to FSU last weekend, just days before Early Signing Day. He saw enough during his two nights on campus to sign with the Seminoles just days later.
"That was my first time ever meeting coach Taggart. He kept it real with me and told me he'd love to have me in his program. I also really got along with all the other commits on campus that weekend."
Telly Lockette was Brownlee's primary recruiter. The 'Noles offered late, but Lockette had been on Brownlee for months prior to the offer. One of the big reasons why Brownlee chose FSU was because of his bond with Lockette.
"He's from the same place where I'm from. He's felt what I've felt, seen what I've seen and he understands where I come from, the point of view," he said.
Brownlee will enroll at FSU in June. He has a message for 'Nole fans…
"I'm looking forward to great things. Bringing a National Championship back to Tallahassee, Tribe19, Baby!"
*Zach Blostein of Noles247 conducted this interview*