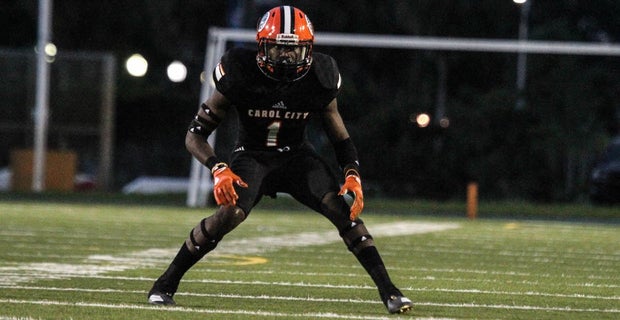 TALLAHASSEE — Jarvis Brownlee emerged from Florida State's football offices with a grin.
The three-star cornerback from Miami Carol City High, just off his official visit to FSU, clearly enjoyed himself. A weekend filled with paintball matches — Brownlee says he found himself in a 1 vs. 6 matchup at one point — and getting an inside look a program he's long admired made him feel confident in the decisions that led him to this moment.
Brownlee decommitted from Miami earlier this week. Exiting the official visit on Sunday morning, Brownlee said "I think I already have my mind made up" to where he'll sign on Wednesday morning, the first day of the early signing period. It'll be either FSU or UCF.
"I'd been waiting on this, and it finally came to," Brownlee said of his FSU official visit. "That's the good thing about it. …I expected this to happen, I just didn't know how I'd take it. I really enjoyed it though. Great time. Spending great time with the family. It's a good thing to meet the Florida State family."
Brownlee said that he grew up a fan of FSU's program, so it's fitting that his host on the official was FSU legacy and cornerback Stanford Samuels III. The 5-foot-11, 175-pound corner said he's been to FSU once previously — for last year's spring game — but the inside look at the program was revelatory for him.
"From a fan's point of view, not seeing the inside how they really are. You really just see the outcome, if they win or lose. …Coming here, I really enjoyed seeing the inside. The academics," Brownlee said.
He added: "I never knew it was this nice inside. That's the great thing, it really opened my eyes. Never knew the field from the point of view in the stands, you don't get the point of view to look up from the field into the stands. That was a great time."
FSU, if it were to sign Brownlee, could use the country's No. 534 overall prospect in various roles. Brownlee said he's comfortable working in the pess corner role within FSU's scheme since he currently does that at Carol City, but added that defensive coordinator Harlon Barnett thinks Brownlee could fit in at other spots in the defensive backfield as well.
"It's a good rotation, not just one player playing," Brownlee said. "They play freshmen and you're going to get in that file and you've just got to be ready."
Also on an official visit this weekend was Brownlee's prep teammate, defensive end/defensive tackle prospect Malcolm Ray. Brownlee said he'd like to play with Ray in college — currently a USF commit — but added that it's not a necessity.