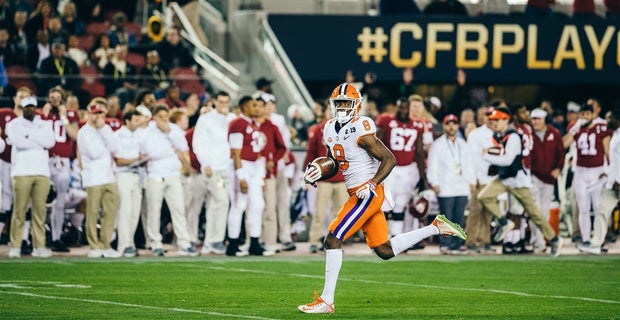 The ACC announced the 2019 conference football schedule on Wednesday. 
Clemson's 2019 football schedule: 
Aug. 29 (Thursday): Georgia Tech 
Sept. 7: Texas A&M
Sept. 14: @ Syracuse 
Sept. 21: Charlotte
Sept. 28: @ North Carolina 
Oct. 5: OPEN DATE
Oct. 12: Florida State
Oct. 19: @ Louisville 
Oct. 26: Boston College 
Nov. 2: Wofford
Nov. 9: @ N.C. State
Nov. 16: Wake Forest 
Nov. 23: OPEN DATE 
Nov. 30: @ South Carolina  
***** Here are team-by-team ACC football schedules.
Clemson 2019 scheduling notes: 
— The Tigers open the 2019 season in Death Valley vs. Georgia Tech on Thursday, Aug. 29, which was first announced by league commissioner John Swofford the Friday before the 2018 ACC Championship game. At a time TBD, Clemson will face the Yellow Jackets in the first game ever to be broadcast on the soon-to-be-launched ACC Network. The opening contest represents Clemson's first time opening a season on a Thursday since facing Georgia Tech on Thursday, Sept. 10 to open the 2009 season. That contest also represented the last time Clemson faced a conference opponent in its season opener. It will be just the fifth Thursday game in Memorial Stadium history, joining Thursday contests in 1998, 2002, 2006 and 2013. It will be the first time Clemson has opened a season at home on a Thursday.
— In Week 2, Clemson will host Jimbo Fisher's Texas A&M Aggies. Clemson defeated Texas A&M 28-26 in College Station in Week 2 of the 2018 season. 
— Clemson will return to Memorial Stadium on Saturday, Sept. 21 for a non-conference contest against Charlotte. It will be the first meeting between the two schools all-time. Including a win in the first all-time meeting between Clemson and Georgia Southern in 2018, Clemson holds a 62-38-4 all-time record when facing an opponent for the first time.
— On Saturday, Sept. 28, Clemson will face North Carolina in the Tigers' first trip to Chapel Hill since 2010. The Tigers and Tar Heels have met three times since the teams' last contest in Chapel Hill, with Clemson going 3-0 in those contests including home wins in 2011 and 2014 and an ACC Championship Game victory in Charlotte in 2015.
— Following an open date, the Tigers will return to action on Saturday, Oct. 12, when they play host to the Florida State Seminoles. Clemson is currently riding a four-game winning streak against the Seminoles, holding the distinction as the only ACC program ever to defeat Florida State in four consecutive seasons. 
— Clemson will face the Louisville Cardinals on the road on Saturday, Oct. 19. Clemson is undefeated against Louisville, having pushed its all-time record in the series to 5-0 with a 77-16 victory at Memorial Stadium in Clemson last season.
— Clemson will return home for a second two-game homestand on Saturday, Oct. 26, and Saturday, Nov. 2, when the team faces Boston College and Wofford, respectively. Last season, Clemson defeated Boston College, 27-7, in prime time to secure the team's fourth consecutive ACC Atlantic Division title. The Wofford game represents a renewal of a series that dates back to 1896.
— Clemson's final ACC road game will be played on Saturday, Nov. 9, when the Tigers face the NC State Wolfpack. The teams met at Memorial Stadium in Clemson in 2018 in a battle of Top 25 teams, in which Clemson earned a decisive 41-7 victory. 
— Following a second open date, the Tigers' will conclude regular season play on the road on Saturday, Nov. 30, against South Carolina. Clemson is currently in the midst of a five-game winning streak in the series.
— Clemson fans can catch their first glimpse of the 2019 Tigers on Saturday, April 6, when the team hosts its annual Spring Game at Memorial Stadium.
— Clemson enters the season with an active winning streak against every team on its schedule with exception of Charlotte, against whom the Tigers have never played. Clemson has active winning streaks against Georgia Tech (four), Texas A&M (two), Syracuse (one), North Carolina (three), Florida State (four), Louisville (five), Boston College (eight), Wofford (five), NC State (seven), Wake Forest (10) and South Carolina (five).
— Clemson will open the season at home for the third consecutive season, the program's first time opening at home three straight years since 2009-11.
— Clemson will face three Power Five conference opponents in the first three weeks of the season for the first time since 2005. That year, Clemson earned a 25-24 win against Texas A&M of the Big 12 followed by a pair of ACC games, a 28-24 win at Maryland and a 36-30 three-overtime loss against Miami. Clemson has not opened 3-0 against major conference opponents in the first three games of the season since it defeated Wake Forest, Virginia Tech and Virginia to open the 1960 campaign.
ACC 2019 scheduling notes: 
• ACC teams will play more games (20) against Power 5 competition (including Notre Dame) than any of their peers. 
• ACC teams will play more games against non-conference teams (16) ranked in last year's final Associated Press Top 25 than any other Power 5 conference. 
• ACC teams will play 26 games against non-conference opponents that participated in bowl games last season, the highest total among Power 5 conferences. 
• ACC teams will play 11 non-conference games against teams in ESPN's 2019 Way-Too-Early Top 25, which is the most among their peers.
"As we look ahead to the 2019 season, there's significant excitement surrounding ACC Football, which is currently enjoying a period of unequaled success," said Swofford. "The individual and collective accomplishments of our 14 football programs are a tribute to the leadership of our student-athletes, coaches and administrators. The upcoming season will feature the debut of the ACC Network, which will provide our fans even more opportunities to follow the ACC and their favorite teams."
Just one week after the ACC Network launches on Aug. 22, the first conference football game will kick off on the new all-ACC platform when Georgia Tech visits Clemson for a Thursday night contest on Aug. 29. The 24/7 network is poised to air 1,300 live events annually across its TV and digital offerings from around the conference's 15 member schools and 27 sponsored sports.
ACC teams will play four neutral site games on the opening Saturday of the 2019 season, including Duke vs. Alabama in the Chick-fil-A Kickoff Game in Atlanta, Georgia; Florida State vs. Boise State in Jacksonville, Florida; Miami vs. Florida in the Camping World Kickoff in Orlando, Florida; and North Carolina vs. South Carolina in the Belk College Kickoff in Charlotte, North Carolina.
The ACC's traditional Labor Day Monday game features Notre Dame at Louisville.
The ACC will have four games nationally televised by ESPN on Thursday nights, including North Carolina at Wake Forest (Sept. 12), Syracuse at NC State (Oct. 10), North Carolina at Pitt (Nov. 14) and NC State at Georgia Tech (Nov. 21). The league also has six Friday night games, including Utah State at Wake Forest (Aug. 30), William & Mary at Virginia (Sept. 7), Duke at Virginia Tech (Sept. 27), Virginia at Miami (Oct. 11), Pitt at Syracuse (Oct. 18) and Virginia Tech at Virginia (Nov. 29). Networks for these games will be announced at a later date.