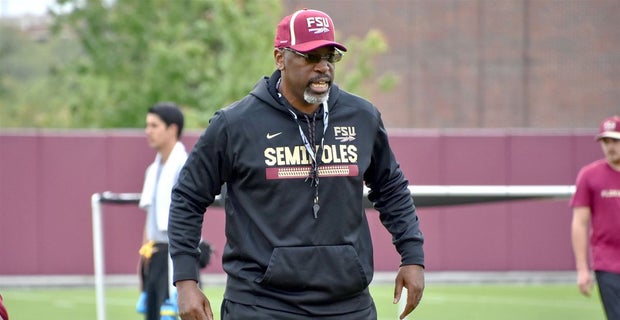 Defensive coordinator Harlon Barnett came to FSU from Michigan State, where he was a longtime assistant and a co-defensive coordinator from 2015-17.
Barnett became the highest-paid assistant coach in program history with his annual salary of $980,000.
Term:
Jan. 6 of 2018 – Jan. 31 of 2019 (Year 1)
Feb. 1 of 2019 – Jan. 31 of 2020 (Year 2)
Feb. 1 of 2020 – Jan. 31 of 2021 (Year 3)
Annual Salary: Base compensation of $200,000 with additional compensation of $780,000.
If Terminated Without Cause: FSU would owe Barnett 20 weeks of total compensation or the remaining term. Payment would be paid in equal bi-weekly payments by the end of the term. If termination occurred with more than 20 weeks remaining to the term, the Florida State University Athletics Association would pay the amount equal to the remaining base salary.
Termination by Employee: Barnett could terminate his contract, with 60 days written notice. Barnett would not owe FSU money (defined as Liquidated Damages) if he accepted a position elsewhere as a head coach, or took a job at a professional sports organization. If he left for another assistant job in college football, he would owe FSU the remaining sum of his contract. There is also the possibility for both sides to part ways mutually.