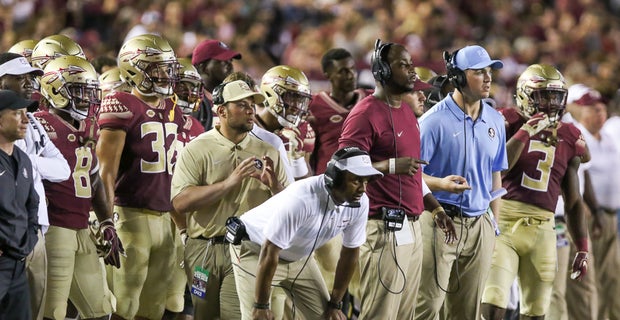 Willie Taggart's first season at Florida State didn't go as planned, but murmurs surrounding a grim outlook for his coaching future with the Seminoles is short-sighted, according to one local analyst.
Earlier this week, Orlando Sentinel columnist Mike Bianchi penned a column contrasting Dan Mullen's first season at Florida with Taggart's campaign in Tallahassee, leading to an invite on Thursday's Paul Finebaum Show to further dissect two rivals who appear to be heading in opposite directions under new regimes.
Finebaum tried baiting Bianchi into agreeing with the notion Florida State should look elsewhere and cut Taggart, but he didn't bite and said it's not fair to make a "snap judgment" after one disappointing season.
"I'm not ready to bail on Willie Taggart after one year, but yeah, there's a lot of question marks right now," Bianchi said on Thursday's show. "He didn't seem to have a plan.The guy who hired Taggart, Stan Wilcox, quit short thereafter. Everybody knows when ou get a new AD in there, you know, they like to hire their own guys. I'm not saying he's on the hot seat yet, but if he has another year like that next year, the new AD will certainly take a look if Willie Taggart is the right guy to lead the program."
The Seminoles struggled on offense this season, finishing 103rd nationally in total offense and 113th in scoring (21.9 points per game). 
"Willie Taggart's reputation as some sort of offensive guru or genius was overstated, otherwise why would he have bailed out on calling the plays midway through the season," Bianchi said this week. "Can you imagine Josh Heupel giving up the play-calling halfway through his first season at UCF? Or Dan Mullen? No. That doesn't mean Taggart can't recruit well and become a good head coach."
Taggart's strength as a recruiter is well-documented and he's trying to salvage a 2019 haul that currently falls inside the Top 20 nationally per the 247Sports Composite. The Seminoles have missed out on a couple big fish — notably 5-star pass rusher Kayvon Thibodeaux and 4-star quarterback Sam Howell, once a longtime commit — this cycle, but hope to end on a high note in a couple of weeks.
"He didn't exactly take over a team that was in great," Bianchi told Finebaum. "I'm going to give Taggart enough time to at least get the right quarterback in there. I don't think anybody is ready to say Willie Taggart is not the right guy there."
Florida State got good news earlier this week when rising senior quarterback Deondre Francois announced he was returning for his final season and not declaring for the NFL Draft (or transferring). It'll be interesting to see where Francois fits into Florida State's plan offensively during the 2019 season, the Seminoles' first with offensive coordinator Kendal Briles.