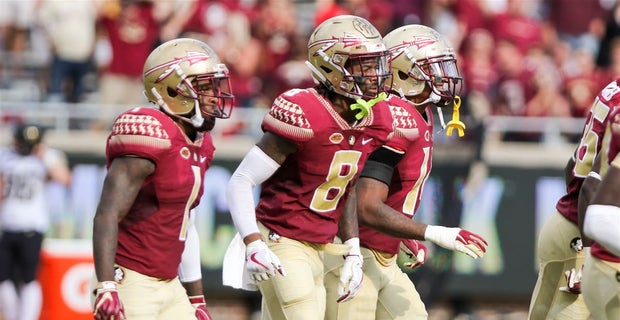 The Florida State Seminoles will look to rebound this week from an embarrassing loss on the road to Notre Dame last Saturday.  This week FSU takes on Boston College and the experts at Noles247 have made their predictions:
Josh Newberg
Why FSU will win: I don't even know anymore.  It's been a while since this team got a quality win.  But if they are to pull it off at home against BC, they'll have to get the offense rolling early.  Willie Taggart has said numerous times that the slow starts have killed this team.  It shows not only on offense but on defense as well.  It sounds simple – get the ball in the hands of your playmakers and let them make plays.  If FSU is to win this game guys like Cam Akers, Tamorrion Terry, Tre' McKitty and Nyqwan Murray will need to step up.
Why FSU could lose: If we see more of the same.  If the 'Noles offense is stuck in neutral to start the game, Boston College will be more patient with their running attack.  AJ Dillon is the type of back that could wear down the FSU defense if the game remains close.  Dillion is one of the top backs in the country this season.  Boston Colleg's defensive line is also loaded with a pair of DE's Zach Allen and Wyatt Ray that will be giving Deondre Francois hell all game.
Prediction: Boston College 27, Florida State 19
=======================================
Brendan Sonnone
Why FSU will win: This is FSU's last stand if it wants to be bowl eligible. And effort hasn't been a problem in recent weeks, or for most of the season, so there's some reason for optimism that FSU will not wilt against Boston College's physicality. Now the Seminoles must execute on both sides of the ball, which has been problematic during the disastrous three-game slide,  but BC's one-dimensional offense gives me reason to believe that the Seminoles can stay in this game. If they find a way to slow RB AJ Dillon, the 'Noles will give themselves a chance at home.
Why FSU could lose: If FSU shows any signs of quit, this game will get out-of-hand much like it did last year in Chestnut Hill. BC's grating approach can wear down mentally fragile teams, and there's no way to predict how FSU responds to the run-first attack after getting gashed by Notre Dame. Falling behind early would create major problems for FSU. Plus, BC's defensive line is excellent and will attack one of the worst offensive lines in the country…so the Seminoles will need to hit on chunk plays in order to score.
Prediction: Florida State 24, Boston College 21
=======================================
Chris Nee
Why FSU will win: If Anthony Brown remains sidelined, I think FSU's chances improve dramatically, as they can zero in on the run game. If the defense can key largely on just Dillon and they do an effective job filling gaps and ending plays on first contact, Boston College's offense will be forced to sustain drives. Offensively, the Seminoles will need big passing plays, vertically, which means that the offensive line must keep Zach Allen and Wyatt Ray from pressuring the pocket at times.
Why FSU could lose: Brown plays, Eagles have a balanced offense, and Dillon is able to consistently create winnable downs with his feet. On the reverse, the FSU offensive line plays as they have much of this season and allows Zach Allen and Wyatt Ray to dominate the LOS and in the backfield. Also, due to pressure, Francois makes a costly bad decision or two, especially with Lukas Dennis and Hamp Cheevers patrolling the secondary.
Prediction: Boston College 28, Florida State 27