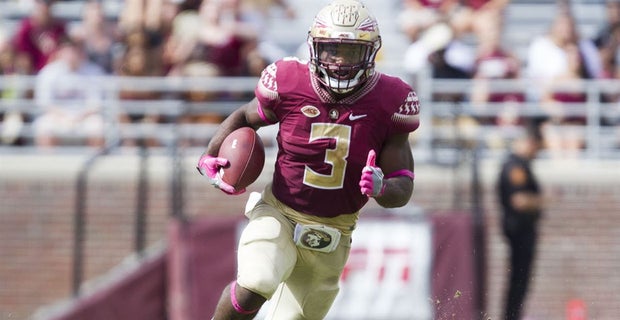 The Florida State Seminoles are coming off their bye week with a 3-3 record and facing Wake Forest at 3:30 p.m. The staff at Noles247 makes their predictions on Saturday's game at Doak Campbell Stadium.
Josh Newberg
Why FSU will win: Florida State will win if they can get out of their own way. We saw what FSU is capable of in the first half against Miami. When they don't shoot themselves in the foot with penalties or turnover, this offense can be explosive. This matchup is also positive for Cam Akers. Akers has struggled to get going this season, but he has an opportunity this week against Wake Forest. FSU's defense has been solid in every game this season. If they can contain Greg Dortch, then FSU should come away with a double digit victory.
Why FSU could lose: There's not a good reason for FSU to lose this game. However, this team has shown a penchant for turnovers and penalties that sabotage any positive plays. This has been the formula for FSU's disappointing losses this season – turn the ball over or a special teams miscue and the opposing team instantly hits on a big play. Wake Forest will try to do that with wide receiver Greg Dortch.
Prediction: Florida State 32, Wake Forest 21
==================================
Brendan Sonnone
Why FSU will win: FSU's offense has problems, but so does Wake Forest's defense. So something has to give, right? The Demon Deacons have allowed 41+ points in three of their past four games and fired their defensive coordinator late last month. Wake Forest has allowed 5.91 yards per carry, which is 124th nationally. Meanwhile, the Seminoles' offense has made small yet steady strides in recent games. Incremental growth and a favorable matchup against a lowly defense should give FSU's offense frequent opportunities to build confidence and make big plays. The Seminoles, as long as the offense can sustain a handful of scoring drives, should be able to have their best offensive output of the season. If Cam Akers is going to get on track this year, this could be the game that sparks him.
Why FSU could lose: If FSU's offense underperforms, well that could put sizable pressure on a defense that's been susceptible to giving up big plays this year. The Seminoles must find a way to keep dynamic wide receiver Greg Dortch in check — Dortch has 48 receptions on 592 catches this year. If they can't slow him down, Wake Forest will be able to generate enough offense to make this game interesting.
Prediction: FSU 35, Wake Forest 24
==================================
Chris Nee
Why FSU will win: From an offensive perspective, the Seminoles are able to run the ball more effectively than they have at any point this season which helps to open up some significant chunk plays vertically down the field in the passing attack. The Seminoles hit on multiple plays of 35 or more yards. FSU's defense comes to play and shuts down the run for Wake Forest more than the Demon Deacons have dealt with in any game this season. While Sam Hartman is able to find Greg Dortch for some success on the day, the Demon Deacons offense struggles to find a good second or third option on the day. FSU's special teams will also prove to be an asset.
Why FSU could lose: Deondre Francois is off, turning it over, and the rushing attack remains stalled out, despite facing a woeful Wake Forest defense. The Demon Deacons find big plays on the ground and through the air, with the supporting cast stepping up outside of wide receiver Greg Dortch. Special teams falter again and provide missed opportunities and short fields for Wake Forest to take advantage of.
Prediction: Florida State 34, Wake Forest 17