Florida State's graphics department has seen better days.
The Seminoles' official recruiting account on Twitter missed the mark with its Martin Luther King Jr. image on Monday, a tweet that drew universal jeers across the social network. Many college football programs posted tributes to MLK, but few were as bold as FSU's decision to photoshop the civil rights activist with Nike receiving gloves.
The graphic shows King with the phrase DO SOMETHING across the middle. The caption, "If I cannot do great things, I can do small things in a great way" lies underneath.
The image, shown below, was deleted soon after it was published.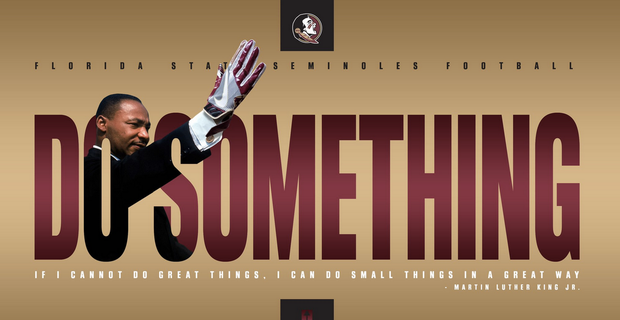 "Do Something" is the hashtag Seminoles coach Willie Taggart has been using to promote FSU's 2019 signing class. It's awfully strange (and in poor taste) to try and tie one of the most influential figures of the 20th century into a recruiting graphic and the public let the university hear it.
King, the leader of the civil rights movement for more than a decade, fought for equality and tried combating racial inequities as Baptist minister from the South. His teachings have stood the test of time and his day, Jan. 21, was recognized as a federal holiday by then-President Ronald Reagan in 1986.
Meanwhile, Florida State is trying to repair its football program after a disappointing losing season during Taggart's first campaign in 2018. FSU's current recruiting class ranks inside the Top 20 nationally according to the 247Sports Composite.
The Seminoles received good news over the weekend as Noles247 reported quarterback James Blackman is expected to remain with the program after previously pondering a transfer. Rick Butts, Blackman's legal guardian and godfather, told Noles247 that an in-person meeting between Blackman and Taggart on Thursday was productive.
"I know James is loyal, he's very loyal to his teammates," Butts said. "Between talking to his family and his teammates, and the coaching staff, things seem to be looking up."