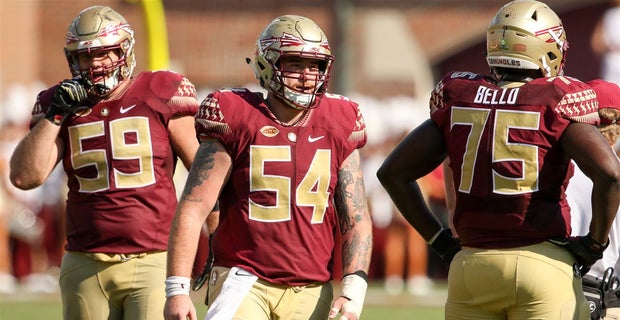 Former Florida State center Alec Eberle was candid when discussing the Seminoles' recent down seasons with the Tampa Bay Times.
Eberle, in St. Petersburg for East-West Shrine Game practice, told the publication that he felt players within the program "lost their drive" in recent years. Eberle entered the starting lineup for FSU as a redshirt freshman in 2015, and he recalled that season fondly. The Seminoles weren't all that talented — compared to some other programs — after coming off back-to-back undefeated regular seasons, but that squad was gritty and went 10-3 despite lacking star power outside of RB Dalvin Cook, DB Jalen Ramsey, DE DeMarcus Walker and freshman S Derwin James.
"I think that a lot of guys just lost their drive," Eberle told the Times. "I think Florida State's been based off of guys who are gritty, who want to really push themselves and really work. That 2015 team was full of guys who came in there willing to work and ready to go."
He added that some "kind of lost that mentality the last couple years."
Eberle started 48 games in his FSU career, and was a team captain throughout the 2018 campaign. He, fair or not, was often a symbol of frustration for a fan base that was confused by the pedestrian play along the offensive line for the past several seasons. That comes with the territory of being a leader and being a constant along a line that fielded different starters at various spots over the years. Eberle typically delivered average starting grades according to Pro Football Focus.
FSU is coming off a 5-7 campaign, its first losing season in decades. FSU went 7-6 the previous season, needing to win its final three regular season games to become bowl eligible.  Eberle is moving on, and his hope is that the players following him can get the program back on track.
"Florida State, we don't lose. If we lose, we don't lose by 30 points," Eberle said. "I think this last year, this past season will be the last time that the Seminoles lose a game by that amount of deficit. If they're going to lose a game, it's going to be a lot closer than that. But at the same time, I don't think they plan on losing any games. I think they plan on getting the standard back to where it was a couple years ago."