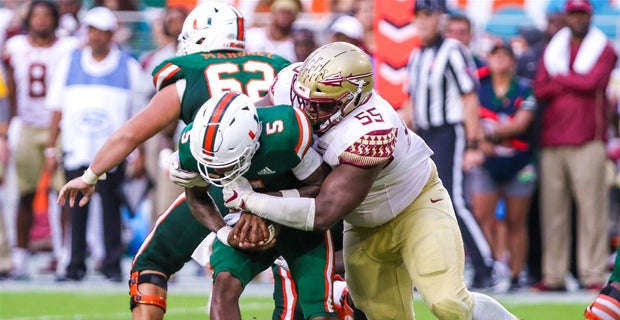 Four former Florida State players will participate in the Tropical Bowl college all-star game.
Defensive lineman Wally Aime, defensive tackle Fredrick Jones and offensive lineman/defensive lineman Arthur Williams are on the roster for the all-star game, which will be held on January 13 at 10 a.m. in Daytona Beach. Also, former FSU tight end Mavin Saunders (who transferred to Kansas for the 2018 season) is on the roster as well.
Aime came to FSU as a JUCO transfer was a rotational lineman for all three seasons in Tallahassee. He accumulated 50 tackles and 3.0 tackles for loss at FSU, and moved to defensive end in his senior season.
Jones was a major contributor for the Seminoles, far outperforming his recruiting ranking as a low-level three-star recruit. An FSU legacy, Jones used technique and a high football I.Q. to make up for a lack of elite physical tools and managed to record at least 15 tackles and a tackle for loss in his final three seasons on campus. Jones finished his FSU career with 67 tackles, 8.0 tackles for loss and 2.0 sacks.
Williams was a career reserve at defensive tackle, but converted to the offensive line this season and became a starter by the end of the season. It's unclear whether he projects as a defensive tackle or a guard at the next level.