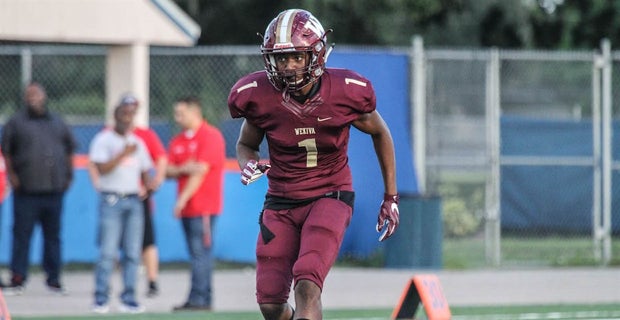 Apopka (Fla.) Wekiva cornerback Renardo Green is among the dozen or so players expected to take an official visit to Florida State this weekend.
Green, until recently, was believed to be on the fringe of FSU's  2019 class as he weighed the possibility of going to Ohio State. But Green — who committed to FSU in September — wrapped up his recruitment following the retirement of Urban Meyer. The three-star defensive back is solid to FSU and is expected to sign with the Seminoles during next week's early signing period (Dec. 19-21).
Green was part of a dominant defense that allowed just 108 points in 13 games en route to making it to the Class 8A state championship game while also working as a wide receiver and punt returner in the highest classification of Florida football.
Throughout the next few days, Noles247 will go over the highlights of FSU's expected signees to get you caught up and prepared for the early signing period. Here's a closer look at Green's highlights from this season, as well as my three favorite plays from the 15-minute video.
Play 1
There are flashier interceptions (including a pick-six or two) in Green's highlights, but this one stuck out because he just does so many things right on the play. Matched up against a taller receiver, Green quickly recognizes where the ball is going and is able to get position on the wideout by squeezing him toward the sideline. Note Green's quick feet and ability to fluidly turn his hips to get downfield. Then there are the ball skills as Green locates the pass in the air and comes down with the pick.
Play 2
Green also served as a punt returner for Wekiva. Admittedly, I'm not sure if he has the top-end speed to take on this role in college, but the quicks and agility he displays here project well at cornerback. There were punt returns that went for touchdowns in the highlights, but this play actually got me to laugh as Green toyed with initial would-be tacklers and broke some poor kid's ankles.
Play 3
Sprinkled throughout the highlights are various examples of Green being a gritty, chippy defender who plays to the echo of the whistle. I like that he blends that passion with the ability to play under control as he typically maintains balance and doesn't overextend himself when pursuing ball carriers. Here, you see the mix of physicality and control as he shoves away a blocker on kickoff coverage and promptly gathers himself to explode into a tackle.
Green is a fun player to watch because he brings a steady level of intensity and passion to the game. He's mean, he's physical and he's athletic enough to work at multiple spots in the defensive backfield. FSU needs gritty, aggressive players in order to turn the corner, and Green fits the bill.