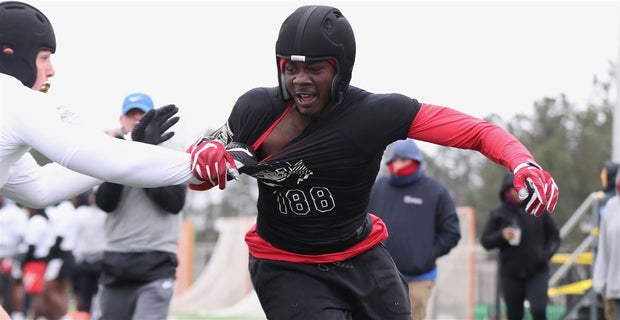 You'll find flashier players out there, but Florida State didn't recruit Derrick McLendon because of his measurable. 
It's the intangibles that intrigue FSU when it comes to McLendon.
The Seminoles need stability as the staff tries to build a sturdy foundation. They need consistent, high-energy players who can be relied on from a snap-to-snap basis. They need someone who hustles and who understands his role within the structure of a team. They need someone dependable. They need players like McLendon to complement some of the more prolific athletes being added in the 2019 recruiting class.
The three-star defensive end from Tucker (Ga.) is ranked the No. 393 overall player in the country and the No. 25 weak-side defensive end per the 247Sports composite rating system. His stats are not gaudy (35 tackles, 6 sacks), nor are his measurables (5.17-second 40-yard dash). The appeal with McLendon is that he routinely does the little things in order for his team to be successful. He'll take on double teams, willingly set the edge and stunt into traffic in order to free up teammates.
McLendon's game is largely predicated on instincts, functional strength and an explosive first step.
The Georgia productive is in Tallahassee this weekend for his official visit and will sign with the Seminoles during the early signing period next week (Dec. 19-21). Noles247 continues its look at early enrollees by going over McLendon's senior highlights as well as our three favorite plays from him on the year.
Play 1
A quick jump off the ball, the power to push through a double team and the athleticism to chase down a quarterback and record a sack…McLendon shows the ability to do a little bit of everything as a pass rusher on this rep. One of the reasons why FSU was high on McLendon since the start of the recruiting cycle is that he can be a program guy. By that, I mean he's a well-rounded person, and he's a high-energy player. He isn't someone who will take reps off and he consistently hustles. That's on display here as he chases down the play from behind.
Play 2
One aspect that made DeMarcus Walker such a productive college pass rusher was his ability to anticipate a snap, and then time up his first step as soon as the ball was snapped. Walker wasn't an elite athlete, but he was a student of the game and had excellent instincts. You can see some similar traits with McLendon. He's moving as the center is beginning to snap the ball and is already in the backfield before the quarterback has completed his play-action look. It's difficult to coach this attribute up…you have to be able to sense and anticipate. McLendon is aided by a missed assignment, but it probably didn't matter much given how he exploded out of his stance.
Play 3
Again, good anticipation and burst helps McLendon quickly win the rep. But what stands out to me is that he's able to remain in control even while being held, and he doesn't really slow down despite the contact. McLendon's ability to turn the corner and zero in on the quarterback lets him get the sack after beating the right tackle.
Previous Highlight Reviews