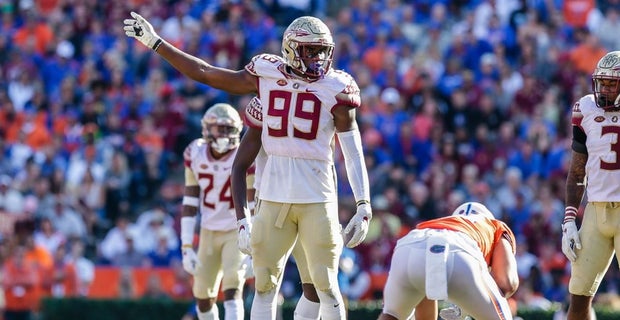 Florida State defensive end Brian Burns has declared for the NFL Draft.
Burns announced his decision to go pro on Monday, through an interview with Yahoo Sports, after compiling 10 sacks this season. The native of Fort Lauderdale had 23.0 career sacks, placing him in a tie for seventh all-time at FSU with Andre Wadsworth, Alonzo Jackson and Everette Brown.
"Florida State has been some of the best years of my life," Burns said in an interview with Yahoo Sports (full story here). "These last three years have been great playing with my teammates, but I feel like this is my opportunity, and time for me to go."
Burns sent out the following message via his personal Twitter account:
Thank you Florida State University for some of the BEST years of my life. Through prayer and the help of my family and coaches, I believe I made the right decision for me. I will forever LOVE my team and my school! ??#NoleBlooded #ForeverANole -Spider-Burns



A long (6-5), twitchy athlete, Burns established himself as a premier pass rusher during his career. His athletic profile and production has caught the attention of NFL teams, with Burns getting pegged as a potential first-round selection (and even a top-five pick) in various mock drafts. The ability to apply pressure routinely off the edge is a commodity in the NFL, making Burns a commodity and thus explaining why he's opting to forgo his senior season at FSU.
The 2019 draft class is expected to be absolutely loaded along the defensive line. Burns is considered the No. 14 overall prospect in the class, per CBS Sports, yet he still ranks behind six other defensive linemen: Ohio State DE Nick Bosa, Houston DT Ed Oliver, Michigan DT Rashan Gary, Clemson DE Clelin Ferrell, Clemson DT Dexter Lawrence, Ohio State DT Dre'Mont Jones, and Alabama DT Raekwon Davis.
Burns finishes his college career with 124 tackles and 38.5 tackles for loss, as well as seven forced fumbles. He was also voted a team captain at the start of the season and was often praised by coaches not only for his production this year, but his energy and effort.
Replacing an NFL-caliber talent like Burns isn't easy, but that task becomes even more difficult given FSU's lack of proven pass rushers returning. Returning defensive ends Joshua Kaindoh and Janarius Robinson combined for 4.5 sacks this season. The only player on the roster with more than two sacks this season other than Burns (10.0) and Kaindoh (3.5): DT Marvin Wilson (3.5).
Burns did share with Yahoo Sports that he had some reluctance going pro after FSU's 5-7 season because he wanted to leave the program in better shape. But he expressed confidence in coach Willie Taggart and believes in his long-term vision for FSU football.
"I never intended on finishing my college career the way we did this season," Burns said. "It's a little frustrating. They'll turn it around in years to come. I'm glad they have Willie Taggart there to get program back to where it used to be."