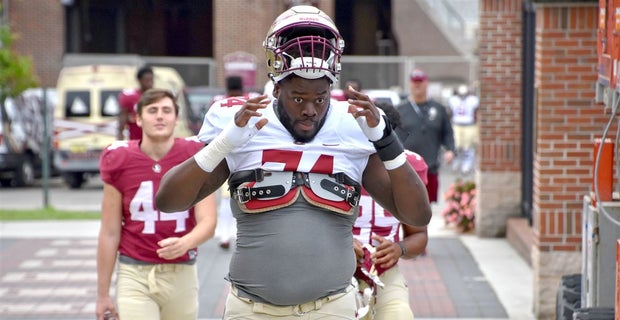 TALLAHASSEE — Florida State offensive lineman Derrick Kelly made his return to the lineup against Miami after missing a couple games with a leg injury.
There was some rust for the senior to shake off after missing time and being limited throughout the week of practice leading up to the rivalry game. And it showed as Kelly came off the bench to replace Abdul Bello at right tackle.
But now, after a bye week, Kelly is feeling better and is slated to start for the Seminoles (3-3, 1-3 ACC) at left tackle in Saturday's contest against Wake Forest (3:30 p.m., ESPN2).
"My leg feels way better now," Kelly said with a smile. "I've actually taken a time off to strengthen it up and being able to get a lot of movement. So I definitely feel like my leg is ready to go."
Kelly, if he's even slightly more agile than he was two weeks ago, can add some much-needed stability to FSU's offensive line. The Seminoles have used nine different players to make up six different starting lineups in as many games this season, and putting Kelly at left tackle would give FSU starting lineup No. 7 this year.
But Kelly's experience is worth mixing up the rotation some, because he's a competent blocker when healthy.
"It's good to see him back out there practicing and having a full week of practice. A full couple weeks of practice before we get out and play," head coach Willie Taggart said. "He played in the Miami game and didn't have much practice that week. He played in that game. It's great to have him back out here. A senior that's played a lot from the beginning to be out there to help you is nice."
Getting Kelly back in the fold could be a small step toward returning to some semblance of normalcy. FSU's line has been in-flux due to injuries and inconsistent play as coaches have tinkered with different combinations. With Landon Dickerson out for an undisclosed amount of time, it's likely that Kelly will settle in as FSU's starting left tackle for the remainder of the season.
If that happens, perhaps the rest of FSU's line can comfortably fall in place and allow an undermanned unit to develop some continuity.
"[We're] definitely coming together a lot more. Starting to communicate a lot more," Kelly said. "Building that trust and making sure everyone is on the same page."