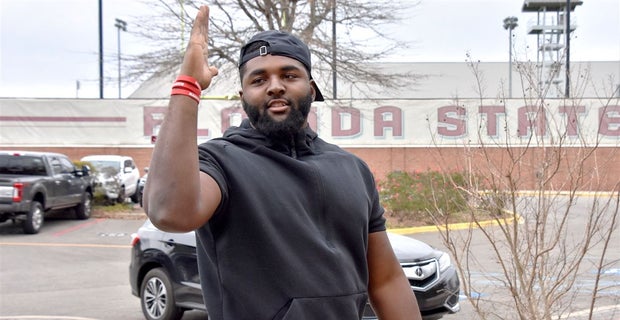 TALLAHASSEE — Four-star defensive lineman Charles Moore knew that he enjoyed Florida State commits during his week at the Under Armour All-America event.
Guys like Jaleel McRae, Kalen DeLoach and Raymond Woodie III were among the Seminoles pledges he got to know, and he immediately noted how close-knit they were together. Their chemistry stood out to him, and he wanted to see if that same connection was evident among current players and coaches during his official visit at FSU.
He wasn't disappointed.
"It's very different," Moore said. "The culture here, I can't touch on it enough, the chemistry here is different."
The way coaches interact with each other…the way players interact with one another…and the way the entire organization functioned…it all stood out to Moore.
Moore, ranked as the No. 69 overall prospect in the 2019 recruiting class, enjoyed his time at FSU this past weekend. The product of Louisville, Miss. left Tallahassee on Sunday and finished his trip confident that FSU would be among his finalists when he makes a decision on National Signing Day.
FSU was listed as a leader along with Florida, LSU and Auburn. Moore still has to take an official visit to LSU, and has already seen Auburn and Florida.
"I would say this is probably the best school I've been to so far," Moore said of FSU. "As far as the campus life, what they offer academically and with the players and coaches that are here, I like it a lot."
Moore spent a lot of time with McRae — who is enrolled at FSU — and defensive tackle Marvin Wilson. He also got to know his potential future position coach in Odell Haggins. Moore said FSU projects him to play as a three-technique defensive tackle, and Haggins was able to connect with him given that both come from small, southern towns.
"With him being here a long time, telling me that I fit here, that I can excel, that I have a high ceiling," Moore said of his conversation with Haggins.
Moore expects to get a visit this week from head coach Willie Taggart as FSU looks to capitalize on the way it connected with Moore this weekend.
"Chemistry with all the coaches, player and recruits…I didn't think it'd be this together. It's great, I like the coaches here."