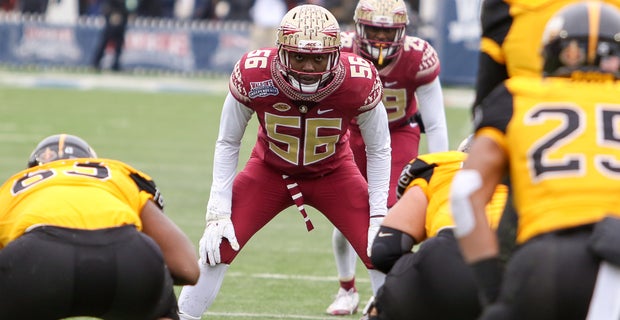 TALLAHASSEE — Florida State linebacker Emmett Rice met the Boston College guard about two yards off the line of scrimmage and struck him without hesitation.
The lineman crumbled to the ground as Rice regained his footing and located running back AJ Dillon. As FSU's defensive tackles swarmed in on the big back, Rice threw his shoulder into the pile with the hopes of adding one more shot before Dillon went down as well.
There was a time earlier this year when Rice as unsure if he'd be able to contribute this season. Coming off an ACL tear in last season's Independence Bowl against Southern Miss, Rice hasn't been 100 percent this entire season. Yet he's contributed periodically in three previous games — against Virginia Tech, Northern Illinois and Wake Forest — but he saw his most significant action of the year in FSU's 22-21 win over Boston College. The junior recorded three tackles as a reserve middle linebacker, but he was constantly around the ball and gave FSU a spark off the bench with his passion and physicality.
"I can't wait until he's 100 percent. He's a really great player," said linebacker Dontavious Jackson. "And when he's 100 percent, he's going to be a dangerous player."
FSU has been cautious in how it's used Rice this season. His knee injury was so late last year that the rehab lasted throughout most of the offseason and caused him to be limited entering preseason camp. Some days, Rice looked bouncy and explosive. Others, he appeared rigid.
It was an upsetting process for Rice, who earned his first career start in the same bowl game he suffered injury in.
"It was real frustrating. I just had to find myself to get back out there," Rice said. "…It's been a lot of work, a lot of treatment, a lot of rehab. It's just been a grind. It's a serious injury and now I'm back good. Hopefully we just move forward from here."
Coach Willie Taggart said "we'll see" when asked if he'd consider playing Rice in Saturday's contest against Florida since he's participated in four games already (a player can received a redshirt if they play in four games or less). But given Rice's production against BC and the energy he brings to the lineup that lacks depth at linebacker, it may be hard to sit him against a run-heavy Florida squad.
"Early in the year he wasn't really confident in his knee and it bothered him a lot," Taggart said. "As the season started, he started making more plays. Teammates jumping all over him. You could see the confidence growing in him.
"Then I love the fact when he goes out and makes plays, you see the excitement his teammates have for him, understand that he had a long comeback. He's still nowhere near where he needs to be, but he's doing whatever he can to help our football team"
Along with bringing energy to the lineup, Rice was also praised by defensive coordinator Harlon Barnett for showing a firm grasp of FSU's scheme. Barnett said Rice's knowledge of the defense makes it easy for him to understand what offenses are trying to do and how everyone on the defense is supposed to react. That's helped Rice contribute and perform well when he's seen action despite not having significant in-game reps to rely on.
"He's a sharp football player, man. He's tough. He can run. And he can hit you," Barnett said. "He has a bright future in my opinion."