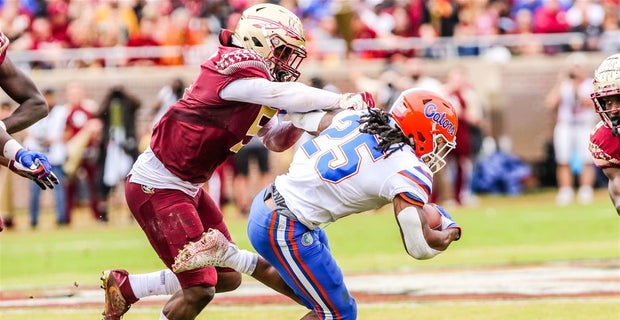 Florida State linebacker Dontavious Jackson will stay for his senior season.
Jackson, who was second on the team with 75 tackles in his first full season as a starter, announced via Twitter that he will remain at FSU instead of declaring for the NFL Draft:
"I have decided to NOT enter my name in this years NFL Draft. I will remain at Florida State to continue pursing my degree & to get back to to work with my brothers. God Bless. #DoakBoy."
Jackson was one of a couple FSU upperclassmen who had enough quality film and production to weigh the option of going pro, even if his draft stock would've been tough to peg. Other players that were worth keeping an eye on entering the offseason included DE Brian Burns (who went pro and could be a first-round draft pick) and QB Deondre Francois (who has yet to announce his plans).
A hard hitter, Jackson was the most consistent part of FSU's linebacking corps on the season. It's a unit that struggled due to injuries, a lack of depth or experience, but Jackson was a steady presence. His return gives FSU a nice nucleus to work with alongside hybrid defender Jaiden Woodbey, who had a nice freshman season working in FSU's Star role. Finding one more linebacker to work alongside Jackson and Woodbey would go a long ways in upgrading the unit.
Jackson also had 7.0 tackles for loss, a sack and a forced fumble during his junior campaign.