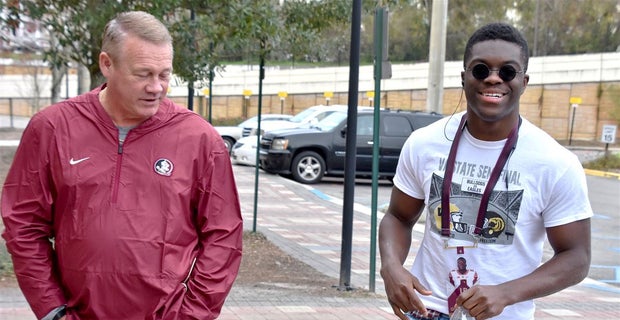 TALLAHASSEE — Florida State made a positive impression on four-star linebacker Eugene Asante during his official visit this weekend.
The Seminoles hosted the Virginia native the past couple days and are making up for lost time after extending a scholarship offer to the fast-rising prospect just two weeks ago. Getting Asante comfortable with FSU in a short amount of time was a primary objective for this weekend.
Mission accomplished.
"It was a really good visit. The hospitality that the staff showed me and just overall being around the players," Asante told Noles247 and other outlets following his official visit on Sunday. "That's something that's real special about this place. I'm really appreciative to be in this position, to be able to have the option to make a choice."
FSU made sure to surround Asante with potential future coaches — linebackers coach Raymond Woodie and defensive coordinator Harlon Barnett — and potential fellow linebackers in host Amari Gainer, official visitor and signee Kevon Glenn, and signees Jaleel McRae and Kalen DeLoach.
Asante also got to spend one-on-one time with head coach Willie Taggart, and that meeting made an impact on him.
"Emphasizing how much he sees me going to this program. How much as a player he likes me," Asante said of his conversation with Taggart. "He also talked to me about his story, his humble beginnings and how he had to be brought up. Jim Harbaugh was actually his mentor. His background and everything he's been through in his life and how he can relate to players."
FSU likes Asante as a versatile linebacker, with Woodie laying out that he viewed the country's No. 283 player as someone who's capable of playing all three linebacker positions in FSU's scheme. 247Sports views Asante as the No. 178 prospect in this class, bumping up more than 600 spots in the final rankings.
"I can do a lot of things, and my ability to run and cover is why," Asante said. "That's my trademark."
Asante has already taken official visits to Virginia Tech, UCLA, and will also see UNC this upcoming weekend.
He plans on announcing his finalists after returning from this weekend's official visit.
Will FSU make his list?
Asante declined to tip his hand and wants to "surprise" everyone when he drops a list…but FSU made headway this weekend.
"They certainly did, certainly caught my eye a little bit," Asante said. "Just being here, my experience being on campus and being able to decipher things, smell the air, get a feeling for the campus and the environment, it's wonderful."