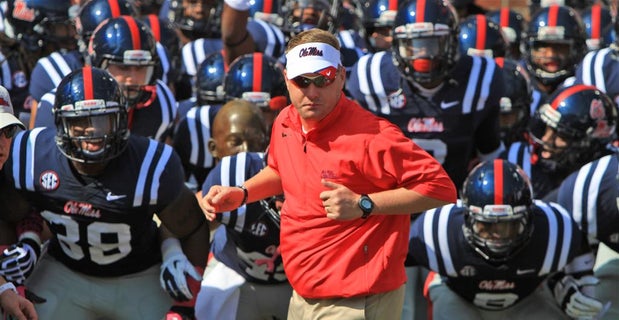 Florida State has been in contact with several candidates to fill its vacancy at offensive coordinator following the departure of Walt Bell on Monday.
Names such as Kliff Kingsbury, Hugh Freeze and Kendal Briles have emerged in recent days (Updated 12/5: Hot Board). Kingsbury, considered one of FSU's top options and a long shot given that FSU was off to a slower start in the negotiating process, ended up at USC. Talks with Freeze have been ongoing for days, and he's being considered for the OC job at Alabama and the head coaching job at Liberty. These aren't the only candidates, however.
Noles247 takes a closer look at some of the frontrunners for the OC job as the hiring process flows into Thursday. Here's what you need to know about Hugh Freeze.
Résumé:
-Ole Miss head coach from 2012-16.
-Arkansas State head coach in 2011.
-Arkansas State offensive coordinator in 2010.
-Lambuth head coach from 2008-09.
-Ole Miss tight ends coach/recruiting coordinator from 2006-07.
-Head coach at Briarcrest Christian School (Tenn.) from 1995–2004. Took team to six consecutive state-title games.
-69–32 record as a college head coach.
Offensive background and accomplishments:
-An innovative offensive mind and an early proponent of the up-tempo spread offense, Freeze ascended up the coaching ranks as he went from a prep coach to a Power Five head coach in less than a decade. Like other spread-based schemes, Freeze's system emphasizes simplicity in its reads while incorporating RPO concepts.
-Freeze's offense in 2015 was fourth nationally, averaging 7.07 yards per play. Per the S&P+'s adjusted metric formula, Freeze's offenses ranked inside the Top 20 nationally three times from 2012-16 and were always in the top half nationally.
-First-round draft picks developed under freeze: TE Evan Engram (2017), OL Laremy Tunsil (2016), WR Laquon Treadwell (2016).
Pros:
-Comfortable with installing and running an up-tempo offense, he'd be able to help Willie Taggart transition the offense from the slower-paced scheme utilized by the previous staff.
-Connections throughout southeast could help with recruiting.
-Has been effective at developing dual-threat quarterbacks at several stops while tailoring playing style to their strengths.
-Long and successful history of managing an offense is exactly what Taggart is looking for.
Questions:
-Freeze is attached to a couple scandals: 1. An NCAA investigation (the NCAA determined that the program "lacked institutional control") from when he was in charge at Ole Miss, and 2. A scandal reportedly involving him calling an escort service with a school-issued phone that ultimately led to his resignation. Would administration and boosters be comfortable opening FSU up to possible criticism that would come with the hire?
-Freeze is a former head coach who would likely want to get back into that role sooner or later. How would that dynamic work on FSU's staff and would he be comfortable in the coordinator role for at least a couple years? Taggart does want stability after Bell in less than a year.
What we're hearing:
It looks like Freeze is FSU's top option at this time. Working out details about contract duration and Freeze having total control of the offense are still in play. Alabama's OC position opening up and interest from Liberty have complicated negotiations, however.