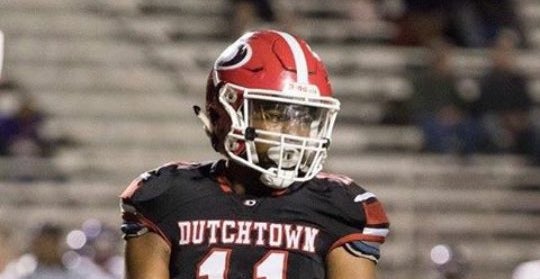 Three-star Dutchtown (Ga.) linebacker Kevon Glenn received an offer from Florida State on Sunday afternoon. Glenn currently holds over 40 scholarship offers from schools around the country. He spoke with Noles247 about the FSU offer here:
Florida State recently picked up contact with the 6-foot-1, 220 lb. defender in the past couple of weeks. They showed legitimate interest and finally pulled the trigger on an offer today.
"Pretty much just the linebackers coach was talking to me. I briefly talked with the DC [Harlon Barnett] but mainly the linebackers coach, coach [Raymond] Woodie. He's the one that offered," Glenn told Noles247.
Linebacker is a major position of need for the Seminoles, but they aren't looking to simply fill the position with unusable depth. They feel as if Glenn can help them in the short run if he were to join the 2019 class.
"[Woodie] likes my attributes as far as being a smart football player that can come in and help change the culture and a player that he likes that can run fast and hit hard," Glenn said. "That's what he's looking for."
The FSU offer was a recruitment-shifter for Glenn. Although he holds offers from many other well-known programs, this one was significant.
"It's definitely big. It changes a lot," Glenn said. "I still have to do more research and develop relationships."
Other schools are after the Hampton, Ga. native as both the December and February signing periods approach.
"Talking to Missouri, Texas Tech, and Kentucky," said Glenn, who also holds listed scholarship offers from Georgia Tech, Mississippi State and others.
When Glenn received the offer, him and the FSU staff talked about setting up an official visit date to check out the school in-depth.
"Most likely won't be able to do an official visit until January so I'll probably be looking to be up there in January," Glenn said.
Georgia Tech is scheduled to get him in next weekend, but that visit isn't set in stone according to Glenn.
"Probably but I don't know but I'm still talking with them."
After the offer came through, Florida State commits who hail from the state of Georgia were vocal on Twitter towards Glenn. He has known some of them since he was very young.
"I know pretty much all three defensive lineman in Derrick McLendon, Curtis Fann, and Tru Thompson. I played rec-ball with McLendon and Thompson," Glenn said. "Just hearing what those guys have said about Florida State and just trusting those guys opinions is definitely making me look into it even more. I'm ready to see it with my own eyes."

Thompson's father, Alton Thompson, has watched Glenn since he and Tru played youth football together.
"First off, he's fast and aggressive. Can run down a play from behind if need be and he's tough as nails," Alton Thompson told Noles247. "He shows no fear whatsoever on the field and he won't quit on you. He tackles with bad intentions but the biggest thing about him, he has great character and comes from a great, hard-working family."
Curtis Fann, arguably Florida State's most vocal recruiter on the commit list, has already been in Glenn's ear about the school.
"He's talked about how he loves it and the coaching staff," Glenn said. "Also he likes the feel of the school and the environment. Definitely a place he thinks I would love."When Glenn makes it to Tallahassee for his official visit, he will be looking at a couple of key things in order to fully grasp what FSU is all about.
"Everyone knows about Florida State's rich history," Glenn said. "I just want to sit down and talk with the coaches and find out the academic side of the school. I've never been to
Florida State so the best I've been doing is to look at videos. It's a big difference just to see it in person and feeling a different energy and feeling the vibe with the coaches."
With limited time to squeeze in visits to multiple schools, Glenn, as of tonight, will likely sign in February.
He plans to announce his commitment whenever the "time is right." It will likely be over Twitter.
Glenn is ranked as the No. 858 player and the No. 35 ILB in the country according to the industry-generated 247Sports Composite Rankings.