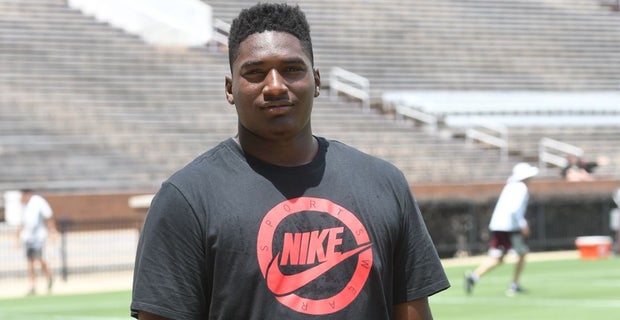 Florida State has offered a scholarship to Pensacola offensive tackle Darius Washington.
The Seminoles offered the three-star prospect from West Florida Tech on Monday evening. FSU was looking to offer Washington on Friday, but he was visiting Miami over the weekend.
Washington is currently committed to Mississippi State. He's taken officials to Mississippi State, South Carolina, UCF and to Miami (once in October, and again this past weekend now that the Hurricanes have a new head coach in Manny Diaz).
There's still one more official visit for Washington to use, and it's unclear at this time if he plans to use it on FSU before National Signing Day (on Feb. 6). Extending an offer could hep FSU's chances of securing an official visit. Mississippi State coach Joe Morehead visited Washington in-home today, and the Bulldogs will push for Washington to take an unofficial visit to Starkville this upcoming weekend.
Washington (6-4, 285) is rated as the 48 offensive tackle in the country. He's only played offensive line for a couple years and has seen his stock gradually rise since this past spring, picking up more than 30 scholarship offers in about a year.
The Seminoles hosted Washington and his family on an unofficial visit in December. During the trip, Washington was able to tour the facilities and meet with coach Willie Taggart. He also visited FSU last February during Junior Day.
Washington's high school teammate was current FSU wide receiver Keyshawn Helton. The two spent time together during Washington's unofficial visit in December, and they're still close.