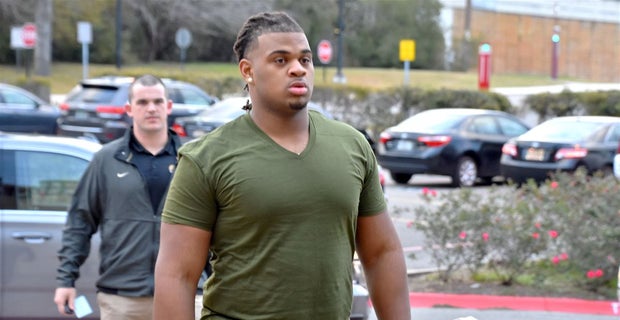 TALLAHASSEE — Florida State pitched Ira Henry on a chance to play early and on becoming part of a brotherhood.
The message resonated for the three-star offensive lineman during his official visit this weekend.
Henry was playing video games with his hosts — offensive lineman Jalen Goss and defensive tackle Marvin Wilson — when it clicked for him. Goss told Henry, casually, that going against the beastly Wilson each day would make him a better player.
Later, during a dinner, Wilson told recruits how things changed this past season at FSU. The 5-7 record was disappointing, but Wilson painted a picture of change behind the scenes that would appeal to potential incoming players like Henry.
"Marvin was telling me that if something big happened on defense and if there was a pick or something, how he wouldn't go celebrate with his teammates. Congratulate them. He was saying that they weren't on the same page," Henry said. "That's when the coaching staff came in, they got to hang out with each other more. They're brothers now. They wasn't brothers at the beginning."
These type of anecdotes were frequent over the weekend. Henry, a three-star tackle prospect from Trinity Catholic in St. Louis, took it all in and exited Tallahassee with newfound excitement about FSU.
"It was a good experience, better than what I thought it was going to be," Henry said. "The feeling of Coach [Willie] Taggart, this was really my first time meeting him…You can tell he's a good coach and wants the best for you. He wants to see all his players succeed on and off the field. You can tell he wants the best for you."
Henry spent time with Taggart, offensive line coach Greg Frey and running backs coach Donte' Pimpleton. He got the feeling that the staff "would be working for you" and liked the vision they had for him. Frey talked about cross-training Henry and working the 6-foot-4, 320-pounder at tackle or guard initially. Henry played both positions in high school and admittedly liked the idea of playing both spots in order to enhance his chances of playing early in his career.
"Guard and tackle, and there's spots available. This is a place where I can come in and impact quickly," Henry said. "I want to get on the field and play some ball."
Henry's parents accompanied him on the visit and they "loved it."
After seeing Auburn, Florida and Iowa State on official visits, Henry has one more trip left and is weighing whether he wants to take his final visit to Indiana or Penn State. Once he makes that decision, he'll put his attention to picking his school on National Signing Day.
FSU, it appears, has positioned itself to be a factor when Henry makes his choice.
"This is a good opportunity to make an impact," Henry said. "[Taggart is] going to get the best out of me, and he wants the best out of me. I can tell."