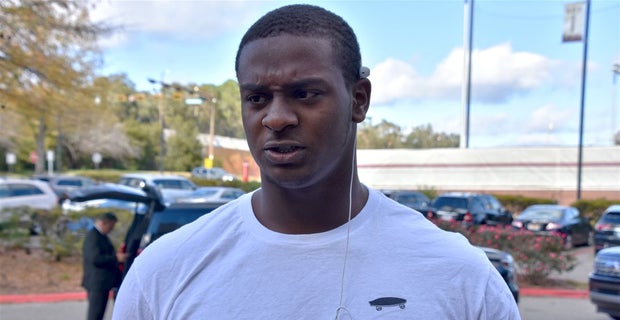 TALLAHASSEE — Miami Carol City High defensive lineman Malcolm Ray left his Florida State official visit on Sunday still committed to USF, but he'll have a lot to think about the next few days.
Ray plans to announce his final decision on where he'll play college football during a signing ceremony at 8 a.m. Wednesday at Carol City, and it appears that he's down to the Bulls and the Seminoles. FSU has made a recent push for Ray and made an overwhelmingly positive impression on him this weekend.
"It was great, it showed me a lot. Opened my eyes, really," Ray said. "They have an excellent coaching staff. I love everything about the facility and it's perfect."
Ray, a three-star recruit ranked as the No. 1,122 prospect in the country, said one of the most surreal moments of the visit came when he was on the field inside Doak Campbell Stadium and the War Chant started playing. He's used to the hearing the anthem at Carol City games, so he felt right at home.
"I mean, at Carol City and then coming here to hear it again, that's a blessing. That's like love," Ray said.
Ray's prep teammate, cornerback Jarvis Brownlee, was also on an official visit. Both players have expressed interest in playing together again at the college level, although they'll make their decisions independently when they choose their respective destinations during the early signing period on Wednesday.
"I would love to. We both play at Carol City and I'd like to see us both succeed at the next level," Ray said.
At 248 pounds, Ray is currently a versatile defensive lineman at the prep level. However, FSU views Ray as a prospect who can grow into the role of a defensive tackle. Ray said that he'd be comfortable inside or outside if he ends up at FSU.
"I'm here to just in wherever I fit at," Ray said. "…I'm a dog. I give you everything you need, whatever you want. If you need some juice, I've got you. I'm that guy."