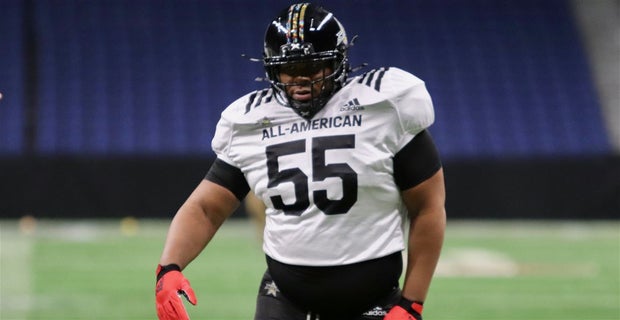 Florida State needs to get meaner and more physical along the offensive line.
In steps Dontae Lucas.
The four-star guard from Bradenton's IMG Academy signed early with FSU and is set to officially begin his college career this week. Lucas, the No. 118 overall prospect in the 2019 class and the No. 6 offensive guard, will bring a mean streak and ample size to FSU's line.
Here's a look at Lucas' senior highlight tape, as well as our three favorite plays, to get you more familiar with the mauler.
Play 1
Quick feet and good burst, these are key aspects to Lucas' game and they're on display during this play. It takes a high level of grace and coordination for a big guy to move nimbly like this, and the play provides a good example of the skills that help make Lucas one of the more impressive run blockers in the 2019 class.
Play 2
Lucas' strength is his ability to carve out space as a run blocker, but it's worth noting that his highlight film includes some nice reps in pass protection as well.
Again, the quick feet are evident as he mirrors the defender before totally engaging and flinging him to the ground.
Play 3
This is quintessential Lucas, and it's why FSU is hopeful he can help turn around the complexion of its offensive line. Lucas is a true mauler and relishes the ability to not just block his opponent, but to drive him into the ground.
It's not that Lucas takes the defender for a ride here, it's that he finishes the block with authority as well. This is the mindset FSU needs up front, and it's been generally lacking for too long.
Lucas will have a chance to play early in his career given his strength and mentality. It's fairly rare for a true freshman to start along the offensive line, but FSU has a need to improve every position along the line, so Lucas will have every chance to prove himself this offseason. 
Previous Highlight Reviews