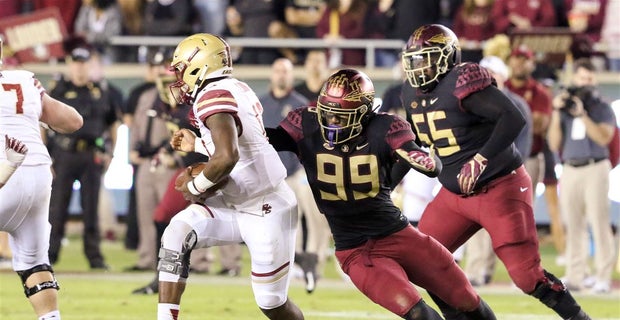 Pro Football Focus' list of the Top 101 players in college football from 2018 included one Florida State player.
To no surprise, that player was defensive end Brian Burns.
The junior — who has declared for the NFL Draft — ranked No. 25 overall on PFF's list.
Burns, per PFF, finished third nationally with 67 pressures despite not playing in a bowl game (he led the country in pressures during the regular season). He also forced three fumbles while missing on just four of 49 tackle attempts this past season, earning him a grade of 88.1.
The Seminoles are coming off a disappointing 5-7 campaign, so the lack of players on this list makes sense. A lack of star power continually plagued the Seminoles in 2018, especially on offense as the unit struggled to consistently score behind makeshift offensive line.
FSU's defense returns most key players from this past season, but Burns is going to be difficult to replace. He's a twitchy, productive pass rusher, and those types are hard to come by (which is why Burns is getting first-round consideration for this year's draft). Burns currently doesn't have that type of player on its roster as Joshua Kaindoh is the only defensive end who recorded double-digit sacks last year — with thee — outside of Burns.