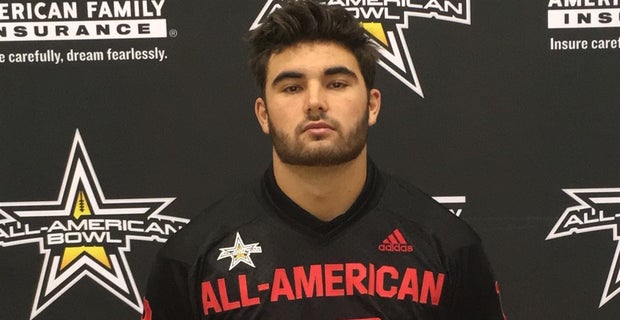 The All-American Bowl Selection Tour made its way to Monroe (N.C.) Sun Valley bright and early on Monday morning to present Top247 quarterback Sam Howell with his jersey to play in this year's game.
The 247Sports Top247 Player Rankings tabs the 6-foot-1, 225-pound Howell as the nation's No. 2 pro-style quarterback and No. 2 prospect in the state of North Carolina.
The All-American Bowl will be played inside the Alamo Dome in San Antonio, Texas on Jan. 5 with the national broadcast set for NBC. The game has featured 380 NFL Draft picks including 86 that have gone in the first round, 16 Heisman Finalists, 52 Super Bowl Champions and 11 NFL Rookie of the Years among its alumni.
"Its really big it's something I've been dreaming of since I first watched the game 10 years ago it's a dream come true," Howell said. "Just getting the opportunity to compete with the best players in the country on national television. I think it will be a lot of fun and I'm excited to compete."
Howell will bring that same competitive energy to Florida State in January as an early enrollee. He's fresh off another trip to Tallahassee.
"I still love the place," Howell said. "My family loves the place. I still believe in what Coach (Willie) Taggart is trying to do there."
Howell is one of the jewels of a FSU recruiting class the industry-generated 247Sports Composite ranks No. 10 nationally and No. 2 in the ACC. He is working on trying to get several to join him in playing for the Seminoles.
"Right now it's mainly linemen," he said. "I'm trying to get Will Putnam (All-American), trying to get Kardell Thomas (All-American) who was just there this weekend. I'm trying to get Evan Neal (All-American) from IMG. Trying to get Quavaris Crouch (All-American), George Pickens all those guys there. I'm feeling good about all of them. They all got a good vibe from Florida State and believe in Coach Taggart."
Howell committed to the Seminoles back in April. One of America's most-sought after signal-callers, he also considered opportunities from the likes of Alabama, Clemson, Florida, Michigan, North Carolina, Ohio State, Oregon, South Carolina and Tennessee.
"It's a big-time college football school," Howell said of FSU. "Offensively I really like their offense. I think I can go in and run the offense well. It's something similar to my high school and I'm excited to get down there."
Howell plans to compete upon arrival and the All-American Bowl will wet the appetite before enrolling.
"I think playing in the game with a lot of top players in the country will help prepare me for college," Howell said. "I play against good players in North Carolina but nothing like the game so I think that experience will help me."
Through nine games as a senior Howell has completed over 62 percent of his passes for 2,308 yards and 28 touchdowns to just five interceptions. He's added another 918 yards rushing and 10 scores. A four-year varsity starter, Howell has passed for 12,483 yards and 137 scores to date with 3,147 yards rushing and 53 touchdowns.