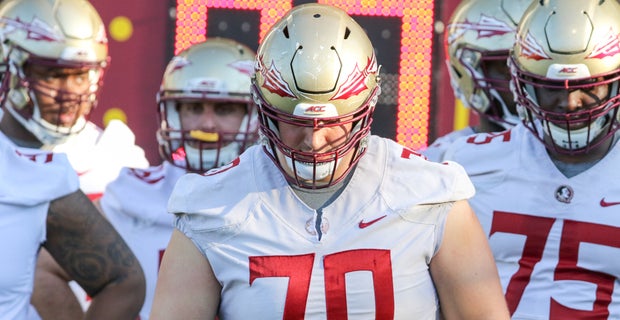 Florida State's offensive line came under fire last season.
Opponents regularly exposed the makeshift unit by the end of the year, daring the Seminoles' line to consistently beat a four-man front with linebackers shaded outside the box. A lack of depth and true tackles was exposed early in the year, and the problems only became more significant as injuries mounted.
Now FSU has a new offensive line coach in Randy Clements and is hopeful that additions to the line can start a turnaround as early as this spring.
 
Spring Inventory*
RS Sr. G Cole Minshew
(27 career games)
RS Sr. OT Abdul Bello
(20 career games)
RS Jr. G/T Landon Dickerson
(13 career games)
RS Jr. OG Mike Arnold
(12 career games)
RS Soph. OL Brady Scott
(10 career games)
RS Jr. OT Jauan Williams
(8 career games)
RS Jr. C/G Baveon Johnson
(4 career games)
RS Fr. OG Christian Armstrong
(1 career game)
RS Fr. OT Jalen Goss
NA
RS Fr. OL Christian Meadows
NA
RS Fr. OT Chaz Neal
NA
RS Jr. OT Jay Williams
NA
Fr. OG Dontae Lucas
NA
What We Know
–When healthy, Dickerson is FSU's top lineman and has the ability to be a solid guard or tackle.
–Scott showed some improvement throughout the year despite playing out of position at tackle.
–FSU doesn't have a clear heir apparent to Alec Eberle at center. While Eberle was an average starter (some would argue below average), he was by far the most consistent snapper on the roster. Snapping was a major issue last spring when Eberle was injured.
–FSU likes what it has in Lucas and thinks he can push to start at guard as a true freshman.
–Jauan Williams needs a reset after losing confidence last year.
–Minshew has shown to be a competent run blocker, although injuries have slowed him down.
What We Don't Know
–Can the line stay healthy? Injuries have hindered starters like Dickerson and Minshew for years. Some injury luck would go a long way in helping out the line.
–FSU had four freshmen redshirt last year. Are any ready to make a meaningful impact this season?
–Jay Williams was brought in from junior college to push for time at tackle. He's athletic, but has work to do with his technique. How quickly will he take to coaching?
–Is there a capable center on the roster?
 
The Focal Point
There are about five guys who could've fit within this category, but Williams stood out to me because of the contrast in potential vs. production. We're talking about a former four-star recruit with the frame and quickness to work outside, but his technique and awareness were abysmal last season.
Williams, for those reasons, remains a wild card. FSU still lacks depth at tackle, and getting something positive from Williams — even as a swing tackle — would be huge. He still has some upside to him, and perhaps a the addition of Clements can spark a turnaround for Williams.
 
A Breakout Candidate
FSU desperately needs to add grit and overall toughness to the line. Those happen to be strengths for Lucas, a four-star recruit from the IMG Academy. It's tough to put too high of expectations on an incoming freshman, although Lucas' upper-body strength and attitude give him a chance to hold his own early in his career.
Yes, Lucas will need to work on getting quicker and reshaping his body in the offseason, but he should at least up the intensity and competition along the line this spring. And maybe he can also push for playing time as well.
Previous Position Previews
Building with Blackman at QB | Getting the RBs back on track | The next step for young WRs | A renewed focus on the TEs? |