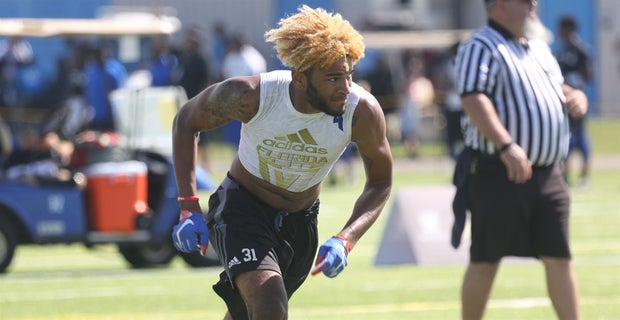 Florida State's lone wide receiver signee so far in the 2019 recruiting class is Maurice Goolsby, the country's No. 383 overall prospect.
Goolsby, from Dunnellon (Fla.), is a 6-foot-5 jump-ball specialist who uses his length to his advantage inside the red zone. FSU wanted to add size to the receiver position, and Goolsby does just that. He projects as an outside receiver or possibly a flex tight end type given his frame and ability to play the ball in the air.
Noles247 continues its look at those from the 2019 class who signed so far with a recap of Goolsby's top plays from his senior season.
Play 1
Ultimately, this is what you're bringing Goolsby in for: To get the ball in traffic.
There's a misconception out there that Goolsby is simply just a tall receiver. That's his speciality, and it's fair to note that he doesn't have a ton of wiggle to make plays after the catch (although that aspect exists). But he possesses some excellent coordination for a big guy, showing the ability to contort his body and play the ball in the air while attacking it at its highest point.
Play 2
Goolsby's length and coordination come into play here as he works on the edge. Good timing on the jump and hands allow for the interception.
Play 3
This is a fun play. Goolsby is covered, but still is calling for the ball. That's the luxury of being 6-foot-5…you're often open even when you're covered properly.
Previous Highlight Reviews