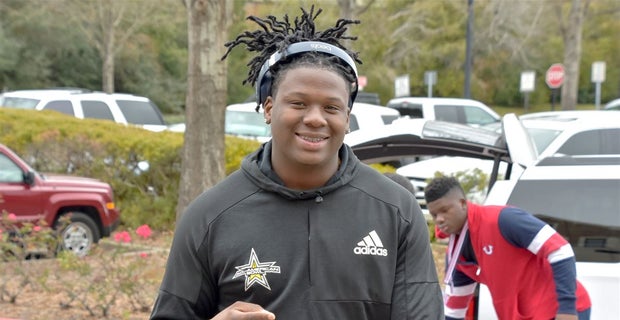 Florida State four-star defensive line commitment Quashon Fuller has had a recruitment full of ups and downs. Today he wrapped up his official visit to FSU. Fuller, along with his family, spent the last two days on FSU's campus with the coaching staff and the players.
"It was amazing. I'm glad to be here right now," Fuller told Chris Nee of Noles247. "The atmosphere was great and how well I get along with the coaches."
Fuller has been to campus numerous times, but this trip was more relaxed and he was able to spend time with the players. One player he connected with in particular was FSU defensive end Janarious Robinson.
"Me and J-Rob had a good talk. It shocked me. I've never had a talk like that with anybody not in my family. It was kinda like he took the words outta my head and said them out of his mouth. It was crazy," he said.
Now that his official visit to FSU is complete, will Fuller follow through on his plans to visit Alabama next weekend?
"I'm still planning to go to Alabama, yes."
Fuller says it'll take something "significant" to change his mind on February 6th, National Signing Day.
"That's why I'm going to visit the place I am next week. It's somewhere significant," he said of his official visit to Alabama.
When he sits down at the table on Signing Day, Fuller says there will be three hats on the table.
"It's Florida State, Alabama and then Florida. Florida, I'm going to have them on the table though."
Fuller measured in at 6-foot-4 and 265-pounds during his visit. Willie Taggart will make a visit on Thursday to see Fuller. It'll be Fuller's final face-to-face with the FSU staff before Signing Day.