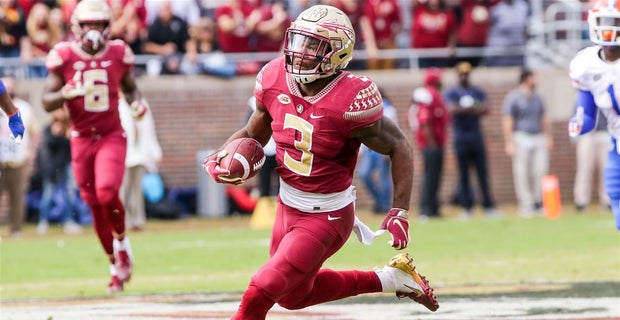 Florida State's rushing attack figured to be a clear building block for Willie Taggart in 2018.
After all, he inherited a pair of former blue-chip backs with starting experience in Cam Akers and Jacques Patrick, and also had promising players in Khalan Laborn and Amir Rasul. Instead, the ground game proved to be a major flaw in a disappointing debut year for the new coach. Behind a makeshift offensive line the dealt with various injuries all season, FSU's backs never got going. The Seminoles averaged 2.79 yards per carry, dead last among Power Five teams (although a high number of sacks certainly impacts this average), and both Akers and Patrick fell off from their 2017 production.
Now FSU enters spring practice next week with seemingly less depth than last season. Can the Seminoles get Akers and the rest of the ground game back on track?
Spring Inventory*
–Jr. Cam Akers
(25 career games; 355 career rushing attempts for 1,731 yards (4.9 YPC) and 13 TDs; 39 career receptions for 261 yards (6.7 YPR) and 3 TDs)
–RS Soph. Khalan Laborn
(2 career games; 1 career reception for 37 yards; 3 kickoff returns for 3 64 yards (21.3 YPR))
–Soph. Anthony Grant
(9 career games; 5 career rushing attempts for 0 yards; 11 career kickoff returns for 247 yards (22.5 YPR))
–RS Soph. Deonte Sheffield
NA
*FSU does not have an updated official roster at this time, so classifications are projected
What We Know
–Akers has star potential. He showed a special blend of power and quicks as a freshman, and even flashed some of those skills last season. But he struggled to create big plays behind a porous offensive line.
–Grant has stood out in practice and was a very contributor on special teams last season (9 tackles, 247 yards on kickoff returns).
–Laborn had a brief flash in the season opener against Virginia Tech as he juked his way to a 37-yard gain on a short pass, but he suffered a season-ending knee injury the next game. All accounts are that Laborn's rehab has gone well.
What We Don't Know
–Can Akers be an elite back in a spread system? We've yet to see what he can do in this system due to the line play last year.
–Will Laborn be ready to contribute this spring?
–Will Grant's practice efforts carry over to a more prominent role in the offense?
–How will OC Kendal Briles utilize backs in his system?
–Will the offensive line be improved enough to positively impact the run game? Will having a quarterback more comfortable running read-option concepts take pressure off the line and backs?
The Focal Point
This is Akers' money year. He's a rising junior and will be viewed as an NFL Draft pick if he can get back to how he produced as a freshman (1,025 rushing yards, 5.3 YPC). That's not a guarantee, however, and that's why Akers will be intriguing to watch starting this spring.
The potential is evident, and he's expected to be the primary focus of the run game, but he'll have to show improved patience as a runner in order to maximize his upside.
A Breakout Candidate
Grant was by far FSU's most productive back during 'Nole Drill last year, often getting through traffic with a combo of quick cuts and emphatic power. This apparently applied to most of practice, where Grant frequently flashed vast upside as a freshman.
Now, with power back Jacques Patrick off to the NFL, Grant has the ability to be a good No. 2 to Akers. He has the makings of a complete runner and his suddenness could make him a good fit for a scheme that tries to put its skill players in space.
Previous Position Previews