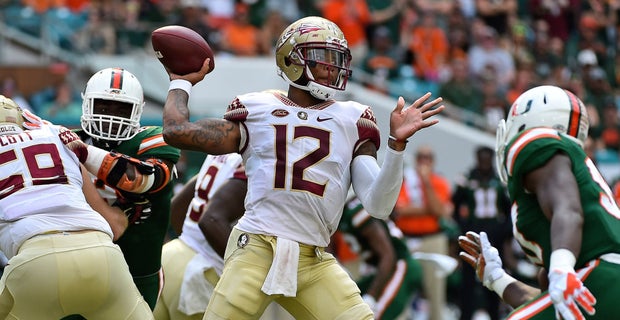 Florida State quarterback Deondre Francois was under pressure more often than just about any signal caller this season due to an outmatched offensive line.
But to magnify the issue, Francois wasn't particularly good while under pressure.
It was a disastrous combination for FSU in 2018, one that led to substantial struggles on offense throughout a majority of the year. Trying to properly decipher blame accordingly is difficult, and putting more fault on the OL vs. Francois — or vice versa — feels disingenuous. Because both were responsible for a hot and cold passing game, and it's clear that FSU needs substantial upgrades up front AND better play from its quarterback to rebound in 2019.
A Frequency of Pressure
It doesn't take a football genius to know that FSU's offensive line was bad this year. This was clear from watching any game as teams frequently got into the backfield without needing to dial up complex blitzes.
It was among the worst units in the country in pass blocking, according to Pro Football Focus, with its Pass Blocking Efficiency ranking 129th out of 130 FBS teams.
For perspective, the Seminoles (with a Pass Blocking Efficiency grade of 80.7) were sandwiched between No. 128 Georgia Southern (82.4) and No. 130 Navy (79.3)…two flexbone offenses that do not throw the ball often and, consequently, do not put much of a priority on practicing this aspect compared to most teams.
Long story short, FSU had 508 drop-back passes and had a quarterback pressured 169 times. So an FSU QB was under pressure on 33.26 percent of all passing attempts, per PFF. This an absurdly high rate.
FSU's individual pass-block grading was particularly poor among some offensive tackles. The Seminoles tried out various combinations along the line as they searched for answers to replace Landon Dickerson (FSU's top-graded pass protector, per PFF, at 79.6 out of 100), who missed all but two games this year with leg injuries.
Some options were bad: Brady Scott, who probably projects as an interior lineman, allowed a Pressure Rate of 10.8 percent on 342 pass-block snaps (grade of 34.9).
Others were really, really bad: Jauan Williams allowed a Pressure Rate of 16.0 percent on 175 pass-block snaps (grade of 13.9). Abdul Bello allowed a Pressure Rate of 17.2 percent on 93 pass-block snaps (grade of 1.4).
Most quarterbacks would've been challenged to operate under this steady stream of pressure. But did Francois help himself out this season?
  
Francois under pressure
Francois was pressured on 37 percent of his drop-backs this season, per PFF. On those occasions he was pressured, Francois was 46 of 127 (36.2 completion rate) for 678 yards, 5 touchdowns and 4 interceptions…good for an NFL passer rating of 54.5.
So how do Francois' numbers compare to other QBs when under pressure? Remember, passing stats are going to be worse when a quarterback doesn't have a clean pocket. Still, Francois was below average compared to 72 other college quarterbacks who took more than half of their respective team's stats. Francois ranked 46th out of 73 QBs when pressure, per PFF. His Accuracy Percentage of 49.5 was particularly low.
This isn't near the same level of FSU's pass protection, but the numbers point to issues with Francois running the offense and delivering throws at a consistently high level when he felt pressure (which, again, was far too frequent).
It's also worth noting that Francois' passer rating when not under pressure was fine: 89.1 with an NFL-converted passer rating. He threw 10 touchdowns to 8 interceptions when passing from a clean pocket. FSU's offense was reliant on downfield throws, limiting some of Francois' ability to be efficient, but the touchdown to turnover ratio isn't ideal.
  
The Takeaway
Francois was below average when passing under pressure. The offensive line was among the worst in the country at allowing pressure. It was a disastrous combination that helps explain FSU's poor offensive output on the season. Revamping the offensive line is a top priority, and that could take more than a year, but FSU also needs more efficient play from its signal caller.