College football's lifeblood is recruiting, and in recruiting certain territories matter more than others. Specifically: California, Georgia, Florida and Texas.
Those states are the pipelines that fuel every college football power. Championships aren't won in the modern age without dipping into those states. Every national title winner over the last 12 years has had at least 10 combined players from those four states. Every championship roster had at least one player from each of Georgia, Florida and Texas as well.
Florida and Georgia serve as the main talent producers of the Southeast. Texas ably stocks 12 FBS programs and over a hundred others. California, meanwhile, supplies rosters out West and a few in the East as well. Together, the four states make up 44.5 percent of the Top247 and 42 percent of the 3,930 recruits ranked in the 247Sports Composite this cycle.
Teams looking for a high volume of quality talent start with those four states. You can often figure out who's cleaned up each cycle by turning an eye in that quartet's direction.
Let's take a look at how these battleground states were won.
Note: All data utilizes the 247Sports Composite unless otherwise noted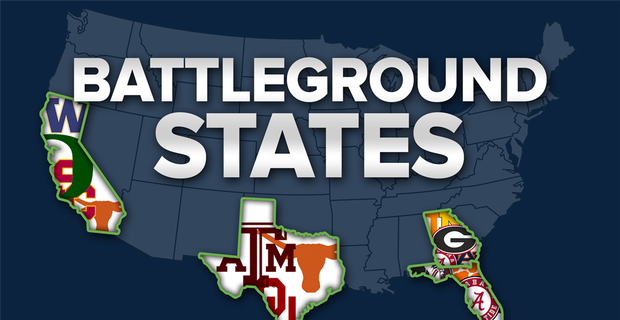 California (32 prospects in Top247)
California claims more Top247 prospects than any state along with a pair of top 10 247Sports Composite prospects. But very little of that talent in staying in state. In fact, only seven of 24 committed prospects in the Top 25 will play for in-state schools.
Oregon's dominated in California this cycle.
Not only can the Ducks claim the state's top player (Kayvon Thibodeaux), but they've earned commitments from five other Golden State prospects. Oregon has one fewer California Top 25 prospect committed than USC, UCLA and Stanford combined. If you're looking for a reason the Ducks' 2019 class sits atop the Pac-12, look not further than Cali.
The problems don't stop there for in-state schools. Washington sits second in the state with a trio of Top 25 commitments. That has the Huskies just a fraction behind USC in the rankings. Texas also signed three prospects from California, including a five-star flip of former USC commit Bru McCoy.
The Trojans do hold commitments from a trio of in-state studs (Kyle Ford, Drake Jackson, Max Williams), but its class is a far cry from top 5 efforts in the 2017 and 2018 cycles. Stanford, which always recruits well despite academic limitations, did sign a pair of the state's best (Austin Jones, Joshua Pakola). UCLA, meanwhile, can claim just one member of the Top 25 and missed out on the state's top QB Jayden Daniels, who's headed to Arizona State.
The state's lone remaining uncommitted Top 25 prospect, Henry To'oto'o, looks like he'll head to Alabama with the Tide owning 67 percent of the Crystal Ball projections.
Distribution of California's Top 25 Prospects
Six: Oregon
Three: USC, Texas, Washington
Two: Stanford
One: Arizona State, Florida, Michigan, Clemson, South Carolina, UCLA, Oklahoma
Uncommitted Prospects (1): Henry To'oto'o
Florida (24 prospects in Top247)
It's kind of down year in Florida in regards to top-end talent, especially when you consider five of the Top 25 prospects play at IMG Academy. However, unlike some previous years, three of those five originally hail from Florida.
Alabama cleaned up in the Sunshine State. The Crimson Tide signed two of the state's three five-star prospects (Trey Sanders, Evan Neal) along with four of the top 10 and 20 percent of the Top 25. No state but Alabama produced more members of the Tide's No. 1 class than Florida.
Georgia raided its neighbor's border effectively, inking the state's No. 1 overall prospect (Nolan Smith, who is originally from Georgia) along with three other members of the Top 25. Clemson swooped into Florida to grab three of the state's top 18, including its best wide receiver, defensive tackle and offensive guard.
The big Florida trio – Florida State, Miami, Florida – combined to ink eight prospects among the Top 25. The Seminoles, which sit 16th in the class rankings, hold a quartet of Top 25 prospects while the Hurricanes and Gators hold commitments from two.
Penn State also dipped into Florida to sign a pair of Sunshine State skill players, including the only non-Floridian, IMG running back Noah Cain (originally from Texas), among the Top 25.
Distribution of Florida's Top 25 Prospects
Five: Alabama
Four: Georgia, Florida State
Three: Clemson
Two: Miami, Florida, Penn State
Uncommitted Prospects (3): Kaiir Elam, Mark-Antony Richards, Jaquaze Sorrells
Georgia (26 Prospects in Top247)
Georgia's population of 10.43 million is just under half of Florida's 20.98 million, yet the Peach State produced more Top247 prospects than Florida. Georgia doesn't often get mentioned with the big three (California, Florida, Texas), but it should. No state produces more high-end talent per capita, and Georgia's seven 247Sports Composite five-stars are the most of any state.
If you're looking for a way to explain Georgia's rapid rise under Kirby Smart, you should start at home.
The Bulldogs didn't dominate the state like they did in 2017, but they still pulled in four of the state's Top 25 players, including five-star defensive tackle Travon Walker. Georgia lost some in-state battles (Jadon Haselwood, Owen Pappoe, Chris Hinton), but there's a reason its class ranks second nationally.
Plenty of other schools feasted in Georgia, however. Auburn, Tennessee and Michigan each dipped into the state for a trio of commitments with the trio each leaving with a five-star. Alabama also signed a trio of Top247 players from the state.
Texas and Clemson both barreled into Georgia to sign a pair of Top 25 players. Clemson, as it always seems to, landed a five-star from the state (Andrew Booth). The Longhorns, meanwhile, nabbed top Grayson athlete Kenyatta Watson.
Really, almost everyone with an elite class poached from Georgia a bit. Alabama, Georgia, Texas and Oklahoma (80 percent of the top 5) landed at least one player from the Peach State. Extend the scope out a bit and you get 11 of the current top 15. With only one premier program in the state (the Bulldogs), Georgia's become a land of opportunity for teams across the nation.
Distribution of Georgia's Top 25 Prospects
Four: Georgia
Three: Alabama, Auburn, Michigan, Tennessee
Two: Clemson, Texas
One: Oklahoma, Ohio State, Notre Dame, Florida, Florida State
Texas (28 Prospects in Top247)
Texas couldn't hold its own borders not too long ago. Only six of the Top 25 prospects from the 2017 class stayed in the state as the state's flagship programs (Texas, Texas A&M) floundered. Two years later that's no longer the case.
The Longhorns owned Texas a year ago, inking 12 members of the Top 25. As the Longhorns have made a national push this year, Jimbo Fisher is locking down the Lone State with both programs holding top 5 classes.
Texas A&M holds commitments from eight of the Top 25, including six of the top 14 and the state's best two prospects (Kenyon Green, DeMarvin Leal). The Aggies also own a commitment from Top247 five-star Baylor Cupp.
Texas, meanwhile, inked four of the state's Top 25 players. That includes a pair of impressive evaluations in Jordan Whittington and Tyler Owens, both of whom shot up to five-star status following stellar senior seasons.
Oklahoma also had a strong year in Texas, landing five-star receiver Theo Wease along with a pair of other Top247 pass catchers. Ohio State (Garrett Wilson) and LSU (Marcel Brooks) stepped into the Lone Star State to land a five-star, while Stanford and Alabama inked a pair of Top 25 players from Texas as well.
Distribution of Texas' Top 25 Prospects
Eight: Texas A&M
Four: Texas
Three: Oklahoma
Two: Stanford, Alabama
One: Ohio State, LSU, Georgia, Illinois, Florida, Arizona