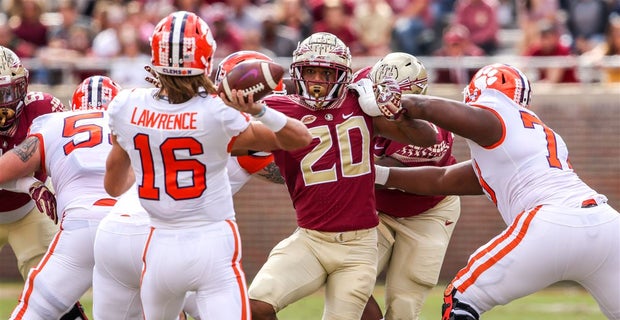 TALLAHASSEE — It didn't take long for Florida State's coaching staff to realize it had something special in Jaiden Woodbey.
By the end of spring practice, the freshman had already earned "dude" status for coach Willie Taggart as Woodbey developed a reputation for dishing out big hits. He became an instant starter, finishing his rookie year with 59 tackles, 4.5 tackles for loss, 7.0 passes defended and a sack.
The California native traveled across the country to play at FSU following one of the oddest and quickest-developing recruitments that you'll ever see for a blue-chip recruit. A year ago today, Woodbey Tweeted that FSU was "dumb enough to never offer me."
Hours later, Taggart — about a week into the job — extended a scholarship offer.
Days later, he was taking an official visit to FSU.
About one week later, Woodbey signed with the Seminoles.
"A lot of people said [FSU wasn't interested] because of the distance, because kids from California don't go to Florida, but you don't know Jaiden," said Lanette Woodbey, Jaiden's mother. "Give him a chance. Give him the offer, because you never know what's going to happen."
It didn't take long for Woodbey to fall in-love with FSU, and he wasted little time establishing himself as a building block for the Seminoles defense. But the journey to budding stardom at FSU, well that was years in the making.
Fear, Greatness and a Certified Weirdo
Anthony Brown knew what Jaiden Woodbey could become, so he pushed him. Constantly.
The coach for the Ground Zero 7-on-7 team –based in Southern California — wanted to put Woodbey outside of his comfort zone as often as possible. Sometimes that resulted in arguments from two highly-competitive people, but that was part of Brown's job. He told Woodbey's parents when he came over to Ground Zero as a sophomore to let go of coaching Woodbey and to just support him. Brown would be the one who would come down hard on the promising defensive back.
So Brown, for example, placed Woodbey in the slot as a nickelback. Woodbey had always played safety and initially would try to sneak in reps at the position, but Brown foresaw where football was going and thought there'd be a need for physical yet athletic defenders to guard the slot as offenses became focused on short passes and screens.
"Kid, you won't play safety for Ground Zero," Brown told Woodbey.
As it turns out, Woodbey ended up playing what was essentially the role of a big nickelback at FSU this season.
Tough love was the way Brown worked with Woodbey, although it was a moment of fear in which Woodbey truly won Brown over.
It was his first year working with Brown and the team had advanced to the championship game of a national tournament. The moment, it appeared, was too big for the underclassmen and he went to the sideline to tell his coach that he was injured. Brown, looking in Woodbey's eyes, knew that wasn't the case. He saw that Woodbey was scared.
Instead of pushing Woodbey into a position where he'd fail, Brown had him just watch.
"That's when I realized he wanted to be great," Brown recalled. "It let me know he wasn't prepared and that he had to work harder. And he did. He committed to doing that, and there was no holding back. Those type of things are in him now, he understands he has to work hard and why he has to work hard."
Hard work didn't scare Woodbey. He leaned into it.
During the school year, he'd get up at 5 a.m. to train with Brown. He'd then drive an hour to school at St. John Bosco High in Bellflower, Calif. and then he'd train again with Brown in the evening. This was five days a week for a couple years, and he usually trained on the weekends as well.
He also trained with Ronald Brown — a former Olympic gold medalist in the 4 x 100 meters relay and an NFL All-Pro — from the time he was seven. At first it was just training, but he was so good that he began to run competitively. Woodbey eventually broke a national record for the pentathlon in his age group in 2012.
"He just always overachieved. He has will," Ronald Brown said. "He's a kid that understands will, and there's no measurement for anyone's will. He has it."
Ronald Brown saw this over and over again. Once, Woodbey was placed on the back end of a relay team and he "rolled up everybody." Not known as a sprinter, Woodbey's competitiveness took him to another level.
"This kid, you can never count him out," Brown said.
Even when he was younger, Woodbey was aiming to overachieve. One of the girls that trained with Ronald Brown and his staff was about 13 and Woodbey was 8 or 9, and Woodbey would make her sandwiches from Hawaiian rolls and bring her Gatorade after she would finish running in hopes of making her his girlfriend.
"Just a perfect gentleman," Ronald Brown said with a laugh. "But he's still like that. Always wants to help somebody, it's crazy."
Anthony Brown noticed this as well from Woodbey. He was constantly respectful and cognizant of representing himself well. Some athletes were brash and drifted toward either being disrespectful or taking part in a party culture that could lead to trouble, but Woodbey stayed away.
"I call him a Certified Weirdo, because doing the wrong thing can become normal," Anthony Brown said. "The athlete who doesn't do any of that, he's looked at like he's a weirdo."
Hard work for Woodbey paid off. He finished with 70 tackles and 4 interceptions his junior season on St. John Bosco team that went 13-2 and was ranked as the No. 2 team in the nation by MaxPreps. Later that summer, in the same 7-on-7 tournament in which the moment was too big for him the previous year, Woodbey helped guide his team to a victory. Ground Zero won a championship, and Woodbey was a team captain.
'A different kind of kid'
Jaiden Woodbey was still at school when FSU came through with a scholarship offer on Dec. 12, 2017.
The previous coaching staff was reluctant to go after a kid from the West Coast. Greg Biggins, a National Recruiting Analyst at 247Sports, has seen it happen time and time again when covering prospects from out west. Some will entertain going to different parts of the country, but they often get cold feet and stay closer to home on National Signing Day, especially when USC came into the picture.
In Woodbey's case, USC wanted him "desperately" according to Biggins. And while he was committed to Ohio State, most around his recruitment expected Woodbey to eventually flip to nearby USC.
"You've got to be a different kind of kid," Biggins said. "That's [gutsy], to leave home and go across the country where you have no support group at all. That's why I had so much respect for Jaiden for doing that. It's uncommon."
Taggart was familiar with Woodbey from his year at Oregon, and that connection helped.
News of the offer circulated quickly and reached Woodbey's mom, Lanette Woodbey, via Twitter. So she promptly asked her older son if the offer — one he coveted since his recruitment began — was legit.
"It was a curveball. He was going to Ohio State, he had been committed for several months," Lanette Woodbey said. "But he had wanted an offer from Florida State. So when he got the offer, we knew this is what he had been wanting, so we were like 'we have to go on an official visit.'"
It wasn't all that well known at the time, but Woodbey grew up respecting and cheering for FSU. Deion Sanders was his favorite player and Woodbey made it a point to watch FSU every week. When FSU went to the Rose Bowl in 2013 and won a national title, Woodbey was in the stands watching as Kelvin Benjamin came down with game-winning catch in the final seconds.
The official visit on Dec. 16 confirmed his passion for FSU, and Woodbey ended up surprising most analysts with his decision to sign with the Seminoles on Dec. 20.
Lanette Woodbey, along with Jaiden's father Donnell Woodbey (who played safety at USC), made sure that they would provide a strong support system, even from afar. They attend every FSU game — home and away — and make arrangements for Woodbey to fly home a few times a year. And they also, along with Anthony Brown, make sure to Facetime him daily.
Ultimately, knowing how Woodbey has carried himself for years has made the transition easier for his family.
"The distance, it's hard because you don't want your kid to be far," Lanette Woodbey said. "But you know that he's still going to get the job done.
"I'm 100 percent happy because he's happy. That's why we told him, 'make sure you go where you want to go.' Follow your dreams, and we'll be there."
Woodbey asked for an FSU offer, received one and is now doing just that.