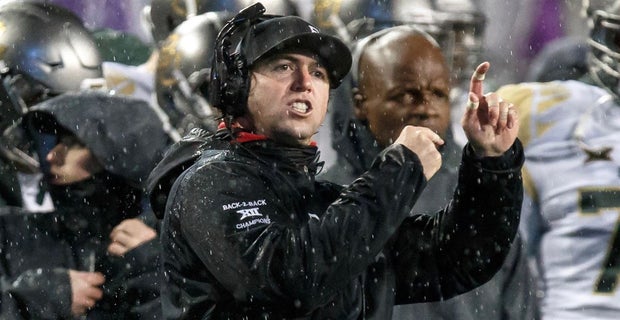 Florida State's coaches will identify and pursue the missing pieces for the 2019 recruiting class as they begin to hit the road during the NCAA's 'contact period'. A new addition — offensive coordinator and quarterbacks coach Kendal Briles — will join the staff as he looks to further establish himself within a group of experienced recruiters.
That's not to say Briles is not an established recruiter himself. While coaching at Baylor, Briles held his own in the Big 12 recruiting scene. He won the Big 12 Recruiter of the Year award in 2013 and 2014, after finishing with a class inside the top 25 in the nation according to Scout and ESPN. He landed multiple blue-chip caliber prospects while having to battle against state powers like the Texas and Texas A&M. Now, Briles is faced with a new and maybe even tougher challenge. His homebase is in the country's most competitive recruiting grounds — Florida — as national powerhouses like Alabama, Georgia, and Clemson are increasingly snatching away elite talent from the in-state programs. Adding to Briles' new challenge, Florida State is coming off a five-win season.
Recruiting History
Within his coaching tenures at Baylor, from 2008 to 2016, FAU, in 2017, and Houston, in 2018, Briles has personally recruited and later landed commitments from five players ranked as four-star prospects, or higher, according to the 247Sports.com Composite Rankings. A four-star prospect can be defined as one of the top 300 players in the nation. Additionally, this prospect will be an impact-player for his college team. He is an All-American candidate who is projected to play professionally.
Those prospects, for Briles, include current Baylor junior defensive tackle, Bravvion Roy, Houston freshman wide receiver, Tren'Davian Dickson, Baylor graduate safety, Davion Hall, former Baylor and current Auburn quarterback, Jarrett Stidham, as well as Baylor graduate wide receiver, KD Cannon.
Cannon, a consensus five-star recruit, was Briles' most prestigious recruiting win in his career. A top five recruit in Texas, Cannon was heavily recruited by schools like Oklahoma, Florida, Ole Miss, and Texas A&M and had offers from just about every school in the country. Nevertheless, Briles was able to win out in the end due to their relationship and Baylor's improving offense, under the reigns of Briles himself.
I just Committed To The Baylor University #Sic'Em


— ?? (@YoungTavon) August 10, 2013
Stidham, ranked the No. 1 dual-threat quarterback in the country in the 2015 class, was another huge recruiting win for Briles and the Baylor staff. Even though Stidham ended up transferring to Auburn soon after enrolling at Baylor, the recruiting victory cannot go unnoticed. Stidham was primarily considering offers from Oregon, Alabama, Kentucky, Texas Tech, and Baylor. It was a late trip to Baylor, where he spent a majority of his time with then offensive coordinator, Kendal Briles, that pulled him away from his longtime commitment to Kliff Kingsbury, at Texas Tech.
We just gettin goin!!!!!#LetsPlay #BGOD


— Coach KB (@kendalbriles) December 19, 2014
"There's a lot of things that played into it," Stidham said about his recruitment in an interview with Wacotrib.com. "Overall, Baylor at the end of the day is where I felt I belonged. With Coach Briles and KB (offensive coordinator Kendal Briles) and the rest of the coaching staff, they are Stephenville [Texas] guys and that really made it feel like it was home for me because they are the people I grew up with, those sorts of people."
At 36 years of age, Briles can also relate more effectively to these recruits. As seen in the case with Stidham, Briles was described as someone who made Baylor 'feel like it was home' because in Stidham's eyes, Briles and the staff made him feel like they were 'people who he grew up with.'
Florida State head coach Willie Taggart centers his recruiting around building a strong relationship with recruits and is working to build a family atmosphere in Tallahassee. In the past, Briles has had similar ways of thinking especially when it comes to recruiting. The two coaches should mesh well, as their schemes and philosophies match up pretty evenly, on and off the field.
    
Regions of Success
The majority of Briles' career has taken place in the state of Texas. As one of the most fertile recruiting grounds in the country, Texas attracts top schools nationally. Not only did Briles have to recruit against longtime in-state powerhouses in the University of Texas and Texas A&M, but he also had to deal with other teams trying to steal prospects out of the state to their respective schools.
To have success at a lesser-known program like Baylor, Briles needed to help establish a recruiting base in the state of Texas.
In Baylor's 2014 recruiting class, the Bears signed four out of the top 25 recruits in the state of Texas, two of those recruits being within the top six in-state. Briles headlined the recruitments for the those two and played a big part in Baylor's recruiting success this cycle. Baylor matched up evenly, in state, with local power, Texas, and was only narrowly beat out by Texas A&M; in large part due to the commitment of the No. 1 overall prospect nationally and in Texas, Myles Garrett. Considering the large monetary gap between Baylor and Texas A&M, as well as Texas, Briles and the Baylor staff should be commended for their work as recruiters during their tenure in Waco.
The map illustrates how much emphasis Briles puts into recruiting the state in which he is coaching. While at Baylor, Briles did not personally land any recruit outside the state of Texas. Within Texas, his most prominent region of success is Houston, and its surrounding cities. That's not surprising considering he attended college at the University of Houston and played football for the Cougars. He most definitely knows the area well and understands how to relate to prospects residing in that region.
Even though Briles left the state of Texas for a season, to coach at FAU, he didn't stop recruiting his home state, landing two commitments in wide-receiver Deandre McNeal and tight-end Logan Peterson. This displays Briles' ability to utilize connections and relationships that he's built in the past to help him in future recruitments.
Although Florida State will look to control the state of Florida in recruiting, if FSU ever needs to go national for some elite talent, they can look to Briles to aid in recruitments taking place in 'The Lone Star State.'
    
Philosophy
Kendal Briles is known for producing big numbers on the offensive side of the ball. In 2015, while at Baylor, Briles was a finalist for the Broyles Award, which commemorates the top assistant football coach in the country. He did this in control of Baylor's offense, which resulted in the Bears leading the NCAA with 48.1 points per game and 616.2 yards of total offense while also ranking second with 326.7 rushing yards per game.
At his next stop, FAU, Briles did not disappoint either. During the 2017 season, Briles led an offense that ranked eighth in the country with an average of 40.6 points per game and ninth with 498.4 yards of total offense per game.
At his final location before arriving to FSU, Briles sparked fire power into Houston's offense. Houston ranked sixth in the nation, averaging 43.9 points per game, and ranked eighth in the FBS with 512.3 yards of total offense.
With this proven success, his recruiting philosophy follows suit. He utilizes his track record to his advantage when speaking to, and recruiting, prospects around the country. While at FAU, Briles landed a commitment from aforementioned Texas wide-receiver transfer, DeAndre McNeal. McNeal broke down his recruitment with Briles as the lead recruiter.
Before McNeal arrived at Texas, coming out of high school, Briles had eyes on him as a prospect when he wanted to join him at Baylor. Although Briles did not win out the first time around, when he made the switch to coach at FAU, McNeal subsequently decided to transfer from Texas. This was Briles' opportunity to land McNeal once and for all.
"He recruited me by telling me and showing me everything I needed out of an offense," McNeal told Noles247 about how Briles recruited him. "There really wasn't a pitch or a message, he knew exactly what I needed to be successful."
It was a combination of Briles' proven success on the field and he himself that landed him, and FAU, a commitment from McNeal.
"I committed to FAU because of him and his impeccable offense," McNeal said about his commitment. "His offensive is the real deal."
"If you like choice routes and scoring, then this is the offense for you."
It is clear that Briles make it known his prowess in coordinating multiple offenses around the country, while recruiting prospective athletes. While at Florida State, Briles will look to add to his already impressive resume with a far more talented pool of athletes to work with and recruit from.