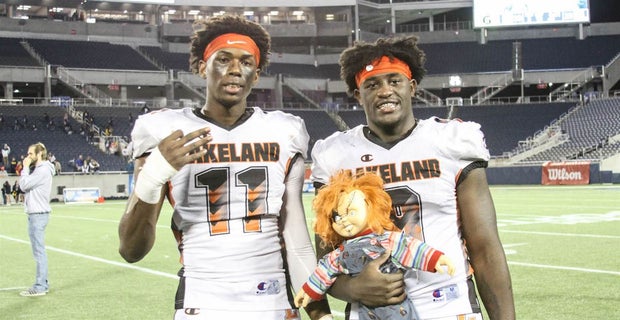 Wednesday marks a big day at Lakeland (Fla.) high school, with a trio of four-star prospects set to make their college commitments known to the world during the first day of Early Signing Period in a matter of hours. Making the big announcements are four-star tight end Keon Zipperer, four-star offensive guard Deyavie Hammond, and four-star defensive end Lloyd Summerall. The trio are slated to make their decision closer to 11:30 a.m. ET on ESPN.
10:50 a.m. ET: Swamp247's Blake Alderman has arrived at Lakeland. The trio should be announcing between 11:30-11:50 a.m.
11:00 a.m. ET: Family is beginning to arrive. There's a table set up with three chairs and three mics.
11:20 a.m. ET: There's a Miami and Florida hat on the table for Summerall. Zipperer has a Alabama, Florida LSU and Miami hat and there's nothing on the table for Hammond.
11:28 a.m. ET: The families are taking some pictures right now before things get started.
11:35 a.m. ET: Hammond has picked Florida. Waiting on the other two.
11:40 a.m. ET: Summerall has also committed to Florida. Zipperer is the last one to go which will be any minute.
11:48 a.m. ET: Zipperer has also chosen Florida. It's a clean sweep for the Gators at Lakeland.
The Florida Gators are factors for all three big name prospects that will be deciding on Wednesday. Florida has been battling things out for most of the year for Summerall and Zipperer as the two have traded momentum back and forth. Zipperer was originally offered by the former Florida coaching staff, but was a name Dan Mullen and his first year staff targeted immediately and recruited hard. He's made several visits to campus over the last several months and has forged a quick bond with area recruiter and tight ends coach Larry Scott. With the switch to a 3-4 defensive scheme, the Gators extended an offer to Summerall earlier this year and began to forge their way into this recruitment. Early on this year, Florida State and Miami were able to get Summerall on campus several times and became early contenders. However, an April visit to Florida really put the Gators into the mix, and every following trip help their cause. As time went on this like Zipperer's recruitment shaped up as a battle between the Gators and Hurricanes. On Wednesday all speculation will be put to rest of the two with a decision revealed soon. The Gators currently are the heavy leader on the 247Sports Crystal Ball for both.
The Gators are also a player for Hammond as well but this recruitment has been seen as a battle between Florida and Florida State. Early on Hammond seemed to talk up the in-state Seminoles more than any other team, and he also made visits for three games this season. The Gators began to turn the heat up in this recruitment and tightened the race with the Seminoles. Hammond plans to have both Florida and Florida State hats in front of him, but the buzz has pointed mainly towards the Gators. This has also been apparent on the 247Sports Crystal Ball with the Gators holding 100-percent of the predictions.
Swamp247 will be on site providing updates for the big announcement of the Lakeland trio. 
The 247Sports Composite, an industry generated average, currently ranks Zipperer as the Nation's No. 136 overall prospect in the 2019 recruiting class, Hammond as the Nation's No. 174 overall prospect in the 2019 recruiting class, and Summerall as the Nation's No. 237 overall prospect in the 2019 recruiting class.