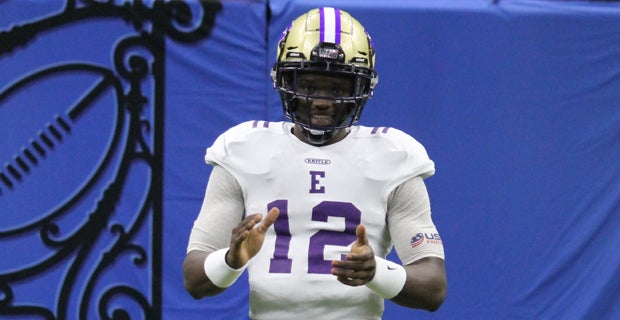 National Signing Day is just a day away.
What does that mean for Florida State?
Well, the Seminoles enter the final 24 hours before NSD with some uncertainty among key players and targets, and with the No. 16 overall class in the 2019 composite recruiting rankings.
With some variables to sift through, where will FSU's class potentially finish in the final rankings? Let's take a look at some scenarios.
Best Case Scenario
Let's start with a scenario in which FSU keeps its committed prospects (fending off Penn State in it's late push for S Nick Cross and holding onto DE Quashon Fuller) and adds its top-remaining uncommitted prospects: OL Kamaar Bell, OL Ira Henry and OL Darius Washington. Plus, let's say that CB Jay Ward is a surefire take and that he chooses FSU over Kentucky and Texas A&M.
Cross: 27.10
Fuller: 18.70
LeGendre: 12.35
Washington: 5.40
Ward: 4.49
Bell: 2.94
Henry: 1.34
In that scenario, FSU takes a full 25-man class and its class score goes from 250.52 to 258.3. Currently, Notre Dame is 14th nationally at 255.69 points, so FSU would slide into that range (commitments and flips for other programs would impact the position of each recruiting class in the rankings). Top 15 seems like the ceiling for this class.
Worst Case Scenario
OK, so we went over FSU hitting all of its primary targets at this stage. What if FSU misses on them all (unlikely, of course) and loses both Cross and Fuller?
Cross and Fuller are two of the top players in FSU's class, so losing them would hurt, dropping FSU's class score from 250.52 to 234.23. Currently, Mississippi State is at No. 23 with 232.06 points.
So missing out on everyone puts FSU in the range of the No. 25 class. That's the basement for this class.
Split the difference
Let's say FSU splits on some of the 50/50 guys at this time. Right now, FSU is trying to keep Cross from flipping to Penn State, is battling Maryland for LeGendre and is considered a finalist with the three offensive linemen. Plus Fuller is a wildcard after taking an official to Alabama this past weekend.
Nothing is certain at this stage. FSU will likely land at least one of the offensive linemen in this class. Landing all three feels more realistic than none or even just one, so let's give two to FSU (Washington and Henry). There are seemingly more variables to the Cross recruitment at this stage than the Fuller recruitment, so we'll give FSU Fuller but lose Cross. With CBs in favor of LeGendre to FSU, we'll put him as an FSU signee for this exercise.
S0…
Fuller: 18.70
LeGendre: 12.35
Washington: 5.40
Henry: 1.34
That would put FSU at 247.47 points. As of now, USC is at No. 18 with 246.36 points.
…
Of course, there are more variables to go through. But this exercise should give you a good idea of FSU's upside in this class (Top 15), it's downside (Top 25) and somewhere in between seems the most realistic, barring any surprises.
If you'd like to experiment with different scenarios, here's the class calculator tool.