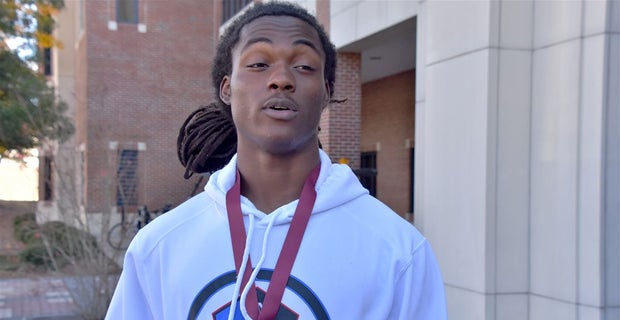 TALLAHASSEE — Five-star cornerback Akeem Dent is familiar with Florida State.
He's been committed to the Seminoles since July of 2017, and his brother (Adarius Dent) is a walk-on for FSU, so he's been to Tallahassee a handful of times. This weekend's official visit didn't necessarily show him anything he didn't already know, although it did reinforce the reasons why he's remain a "loyal commit" to FSU despite significant interest from powerhouse programs around the country.
One aspect of uncertainty, however, remains Dent's decision on whether or not he'll sign with FSU during the early signing period (begins Wednesday and ends on Friday).
"If that comes up, but as of right now, I really don't know. Because it's like a little ocean. Some days it's calm, some days it's [choppy]," Dent said Saturday while gesturing crashing waves with his hand.
FSU coaches did broach the topic of signing early with Dent, but he said it was difficult to give a clear answer since he was still unsure of his plans.
Dent (5-11, 180) did reiterate that he's "firmly, strongly" committed to FSU.
Out of Palm Beach Central High, Dent is ranked as the No. 33 overall prospect in the country. Dent likes that FSU represents an "opportunity" for him. That means the chance to play early and to be part of reestablishing a winning culture at FSU.
"When I mention the opportunities of the other [schools], it just doesn't measure up," said Dent, who has offers from Alabama, Miami, Michigan and others.
Dent, when asked about his thoughts on FSU, added: "Brotherhood, family and this is an opportunity. It depends on what you want to do with your future."