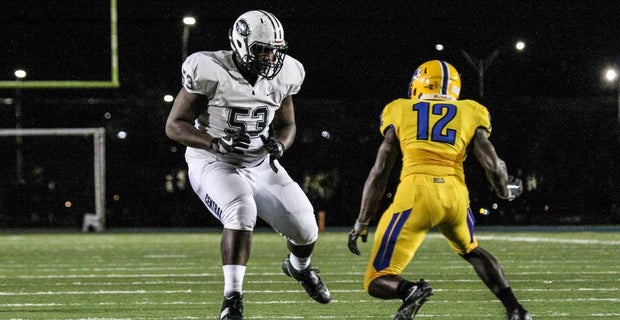 Florida State's focus on adding to its offensive line is beginning to pay off as the Seminoles have received a couple OL pledges.
First came Jay Williams, a JUCO tackle who committed on Tuesday evening. Later on Tuesday, FSU received a commitment from three-star offensive guard Maurice Smith. The product from Miami Central High is the country's No. 56 offensive guard in the country per the 247Sports composite ranking.
Smith (6-2, 276), doesn't have prototypical size. But there is a lot to like about his game, especially given that he goes up against some of the top competition in the country in Dade County. Here's a closer look at Smith's strengths and his scheme fit.
 
PLAY 1: HUSTLE
You have to love a big man hustling to make a block 15 yards downfield, right?
And the effort doesn't stop with the initial block versus the retreating defender as Smith continues to search for another defender to nearly 30 yards downfield. He's even upset with himself that he didn't make a second block. That's pretty cool.
PLAY 2: ROOM TO WORK
Smith is at left guard here, and there's nothing particularly flashy about this play. The amount of room he helps carve out, however, is a thing of beauty.
Good burst, good power and a good job of turning the defender gives Smith a clean win on the rep.
PLAY 3: PASS PRO POTENTIAL
A real nice rep here, Smith drops back in pass protection quickly and smoothly. With a violent strike, Smith jolts the edge rusher and stops him promptly.
Additionally, Smith remains in control and uses his leverage to take down the slipping rusher.
PLAY 4: STRENGTH
Good burst and even better strength to turn the end, Smith's able to easily create some running room.
As a bonus, he drives the defender down the line and into traffic.
PLAY 5: MEAN STREAK
For the last play, I just decided to put in a pancake block with Smith letting the defender know he was just pancaked.

A little bit of a mean streak is much needed at FSU.
WHAT TO LIKE…
There's a really nice baseline to work with as Smith plays with good technique, control and attitude. He hustles and relishes the opportunity to drive opponents into the ground. Smith has the right mindset to play the position entering the college level.
NEEDS WORK
The biggest area to focus on early in his career is bulking up. Smith has good strength at the prep level, but he isn't a massive prospect and will need to add weight so he can move 300-pound defensive tackles. How does he do with an extra 30 or so pounds to his frame? 
POTENTIAL SCHEME FIT
Smith projects as a guard in FSU's scheme and has shown the quickness to work in zone concepts and the balance to move guys when pulling.
IMPACT TIMELINE
Smith's size could make it tough for him to start immediately. How does he do athletically with additional weight? The answer to this question will likely determine how quickly Smith sees the field. Currently, he projects as a role player his first year on campus.
FINAL THOUGHTS
Not flashy, Smith just gets the job done. FSU is banking on Smith filling out so that his mentality and passion translate into steady success as a blocker, but that takes time. Still, there's a lot to like about Smith. He feels like a high floor, low ceiling type regarding his potential (depending on how he develops physically), but there's clear value to having a steady, hard-working lineman on the roster to push others and possibly provide stability at either guard spot in a couple years.