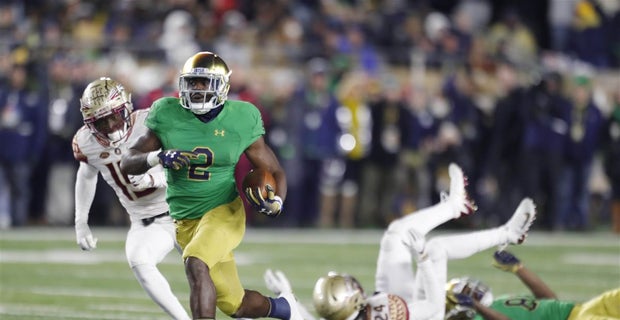 NOTRE DAME, Ind. — Notre Dame was able to run wild and capitalized on Florida State's hiccups, and the Seminoles failed to consistently do the same. That was the difference.
The miscues were still too frequent for the Seminoles, especially against a complete opponent like No. 3 Notre Dame. FSU (4-6) lost to the Fighting Irish (10-0) 42-13 on Saturday at Notre Dame Stadium, falling behind early after a series of mistakes created an insurmountable deficit.
The Fighting Irish scored on their first five drives and built a 32-6 lead at half, and they were able to lean on a dominant rushing attack that compiled 365 yards.
FSU has now lost three straight games, falling by a combined score of 148-51 to Notre Dame, Clemson and N.C. State.
Notre Dame got going immediately when QB Deondre Francois rocketed a pass to tight end Tre' McKitty, the ball bounced off his target and was intercepted by safety Nick Coleman.
Starting at FSU's three yard-line, Notre Dame was able to score with ease on a fade pattern from reserve QB Brandon Wimbush to 6-foot-4 receiver Miles Boykin.
Notre Dame then put together a methodical 14-play, 81-yard scoring drive — this time, Wimbush hit tight end Alize Mack for another jump-ball score — and followed that up by recovering a Cam Akers fumble deep in FSU territory. After the turnover, Notre Dame scored a field goal to take a 17-0 lead.
Even when FSU managed to do something well in the first half — Akers scored on an eight-yard keeper while lining up in the Wildcat formation — it still came with errors. FSU's extra point was blown up and blocked, with Notre Dame's Julian Love returning the ball for two points.
The Seminoles did show some signs of life in the second half, with cornerback Stanford Samuels III and linebacker Dontavious Jackson both recording interceptions.
FSU capitalized on the first pick, with Akers scoring on a seven-yard run to make the score 32-13 early in the third quarter. The Seminoles had a chance to score on the next turnover they forced and moved down to Notre Dame's one yard-line. But Jacques Patrick was stuffed and tackled behind the line on consecutive plays, and then Francois' fourth-down pass off a play action sailed harmlessly out of the end zone.
Francois' stat line was hurt by several drops — Tamorrion Terry and Ontaria Wilson had three on one drive, including what would've been a chunk play by Wilson if the ball didn't go through his hands — but he also was inconsistent after missing last week's contest with a rib injury/concussion. The junior was 23 of 47 for 216 yards and an interception, and missed a key read in the aforementioned goal-line stand by Notre Dame.
On the other side, FSU's defense was gashed by Notre Dame's run game. Dexter Williams led the way with 202 yards on the ground — the most rushing yards by an individual versus FSU since the early 1980s –while Wimbush was effective scrambling and running the read option to finish with 68 yards.
FIRST QUARTER
Notre Dame 7, FSU 0
QB Brandon Wimbush completes fade pattern to WR Miles Boykin for a 3-yard touchdown. Boykin scored in a one-on-one matchup outside vs. safety Hamsah Nasirildeen. Notre Dame got a short field after QB Deondre Francois' pass to Tre' McKitty was deflected and intercepted by S Nick Coleman.
Drive: 2 plays, 3 yards, 0:34. 13:45 remaining in the first quarter.
Notre Dame 14, FSU 0
Wimbush connects with TE Alize Mack on a fade pattern over S A.J. Westbrook for a touchdown. The Fighting Irish converted on third down three times in the drive — once by penalty, twice by pass — with a pass interference call erasing an interception by CB Kyle Meyers.
Drive: 14 plays, 81 yards, 5:03. 06:51 remaining in the first quarter.
Notre Dame 17, FSU 0
PK Justin Yoon makes 26-yard field goal. Notre Dame took over at FSU's 14 after a Cam Akers fumble.
Drive: 4 plays, 6 yards, 0:46
SECOND QUARTER
Notre Dame 19, FSU 6
RB Cam Akers lines up at QB, keeps the ball, and jukes past a defender en route to an 8-yard scoring run. FSU converted on 4th and 1 earlier in the drive with a quarterback sneak.
On the extra point, Notre Dame blocked the kick and Julian Love returned it for two points.
Drive: 16 plays, 75 yards, 7:36. 13:17 remaining in the second quarter.
Notre Dame 25, FSU 6
RB Dexter Williams breaks through crease for 58-yard touchdown run. The play came immediately after Wimbush scrambled for a first down on 3rd and 10. …DT Cory Durden blocked the extra point.
Drive: 4 plays, 75 yards, 1:40. 11:37 remaining in the second quarter.
Notre Dame 32, FSU 6
Mack gets his second touchdown of the evening, catching a jump ball over Westbrook. The play came after the Fighting Irish picked up a first down on 3rd & 6.
Drive: 6 plays, 67 yards, 1:50. 06:18 remaining in the second quarter.
THIRD QUARTER
Notre Dame 32, FSU 13
Akers breaks a tackle and pushes past another defender for a seven-yard touchdown. The Seminoles got the ball with good field position after Stanford Samuels III recorded an interception.
Drive: 4 plays, 30 yards, 0:45. 13:35 remaining in the third quarter.
Notre Dame 35, FSU 13
Yoon makes 35-yard field goal.
Drive: 8 plays, 57 yards, 3:27. 10:08 remaining in the third quarter.
FOURTH QUARTER
Notre Dame 42, FSU 13
RB Dexter Williams breaks off a 32-yard run for a score.
Drive: 12 plays, 97 yards, 5:30. 13:10 remaining in the fourth quarter.