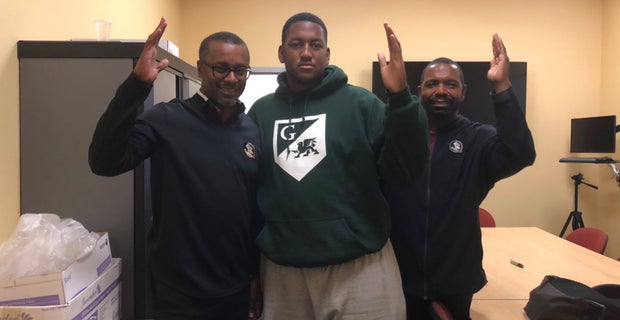 TALLAHASSEE — One by one, students took turns going to the front of the classroom to give a brief speech on their short-term and long-term goals while at Nuview Bridge Early College High School.
The public charter school emphasizes academics and has ties to local colleges in Southern California, so most of the freshmen in the class shared their goals of positioning themselves to go to a four-year university and earn their degree.
Then Jay Williams stepped up. At 6-foot-3, he was already bigger than most of his classmates, so he stood out. And his goal was different than everyone else's as he told the room that he aspired to be a Division I athlete.
The class started laughing at Williams.
"From that point forward, me and my college dreams were the laughing stock of the school," Williams told Noles247.
Williams faced rejection like this throughout his football career. Despite his size and production, Williams felt overlooked in high school and was turned away from walk-on opportunities at San Diego State after taking a gamble on himself. There were times when he wanted to quit, and other times when he actually did quit football for a few a days. And now, after a substantial growth spurt and rapid recruitment in the junior college ranks, Williams has positioned himself to vie for a starting spot on Florida State's offensive line.
Doubted
Williams first fell in love with football in middle school. His father, Jermaine Williams — an offensive lineman at Louisville from 1992-94 — had connections from his playing days, and used them to get in touch with former Cardinals teammate Roman Oben. Oben was finishing his 12-year NFL career with the San Diego Chargers, so Jermaine Williams was able to bring his son to games and sit in the friends/family section.
By the time he got to high school, Williams had the size needed to play in college. He was 6-foot-3, 180 pounds, making him just one of a few players from the small school who was taller than 6-foot. His dad was the coach at Nuview Bridge 8-man football team, and Williams played early on both sides of the ball as a defensive end and tight end.
Nuview Bridge eventually moved to 11-man football and Williams did well enough on the defensive side to get looks from Division II schools. He had some offers and took a visit to Western Oregon, but he didn't waiver from his goal of playing at the FBS level. A letter from Nebraska fueled Williams' hunger to make it to a big-time program.
"He always had big dreams and aspirations," said Tony Montoya, a longtime friend of Williams' who played basketball with him at Nuview Bridge. "…Maybe he wasn't producing like you'd expect from a DI defensive end, but he still produced and I thought he had potential. He was a stud. His dad is a big guy, and I thought if he ever turned into his dad's size, he'd prove a lot of people wrong."
Instead of going out of state to Western Oregon, Williams walked-on at San Diego State. In his redshirt year at SDSU, Williams lost both of his grandmothers in a six-month span.
"I think he was dealing with some depression," said Jermaine Williams. "They wanted him to get to 270 pounds, but he struggled putting on weight."
Williams said it was just a week after getting news that his grandmother passed away that he was cut from SDSU.
"I was told that my effort was never doubted…'but this is what we decided and we wish you the best," Williams said. "That didn't stop me."
Potential realized
Williams reached out to a few junior colleges and found a home at Grossmont College in El Cajon, Calif. He was about 6-foot-4, 240 pounds and started off as a defensive end, but asked to move over to be a blocking tight end after his first season playing.
Before going into Year 2 at Grossmont, Williams texted his coach that he was quitting and took on two jobs. Initially content, Williams had an epiphany while at work and realized that football would only be available to him for so much longer, so he decided to give the sport one more shot.
Grossmont coach Michael Jordan saw Williams do solid work as a tight end, but he wasn't quite athletic enough to distinguish himself as an FBS recruit given football's growing emphasis on tight ends becoming space players. Williams started filling out while at Grossmont — his dad said that Williams got a personal trainer and continued to add bulk to his upper body while still growing some — and Jordan had the idea of moving Williams to the offensive line.
Jordan pitched the possibility to Williams, but he was initially resistant.
"He always liked defense and tight end better, because you get more glory there," Jermaine Williams said. "But I always talked about how important the offensive line is when I coached, because you can't without it. They're what makes it happen on offense. …That's what I played, and I thought that'd be a great move."
The same day Jordan talked to Williams about moving over, a Nevada assistant was in attendance to watch practice. He saw Williams catch the ball and run, and looked over to Jordan.
"Hey, that guy should play offensive line," the coach said.
The coach told Jordan that he'd talk to Williams after practice, and Williams texted Jordan later that night to let him know he was switching to offensive line.
Williams, up to 270 pounds as he entered spring practice at Grossmont, was a natural and carried his new weight well. He looked graceful yet powerful working at guard, so much so that Jordan had to re-watch the tape of Williams' first practice about 10 times to believe what he was seeing.
"He just looked like a seasoned offensive lineman," Jordan said. "A slower tight end still makes a fast tackle. And he was really athletic out there, it was clear that he could move, but he also played with a chip on his shoulder. He was out in space tracking 'backers down, but was also good in pass pro."
  
The chase
Williams started at Grossmont this past season and it didn't take long for college teams to take notice. That's how recruiting works in junior college, things happen quickly. He took an unofficial visit up to USC in early October, and got a call from an FAU coach offering him a scholarship while on the drive home.
"'I can tell you right now after watching your film, you'll be getting a lot of calls," Jermaine Williams recalls the FAU coach telling Jay.
By the time the Williams family made their way back from USC, Jay took several more calls and added three scholarship offers.
Indiana became the first Power Five school to offer Williams, and other FBS schools followed suit, including SDSU. Florida State, in serious need of instant help along the offensive line, offered Williams in early December during a visit from head coach Willie Taggart and assistant David Kelly
"In high school, Jay was chasing places, schools weren't chasing Jay," Montoya said. "Now, to see him get about 18 DI offers, and they wanted Jay? That's crazy. Within two years, Jay went from chasing schools to them chasing him."
Williams and his family took official visits to Indiana and Texas before heading to Tallahassee during the weekend of Dec. 14.
Taggart, during a final meeting in his office before the Williams family departed, spoke on FSU's need at offensive tackle as well as his vision for the program. But what stood out and sold Williams was Taggart's emphasis on providing a support system for his players during and after their time at FSU.
"As we were leaving, Coach Taggart told Jay that he's here to help him, but he has to ask for help," Jermaine Williams said. "As a parent, that meant a lot."
Williams committed to FSU and made his decision public shortly after his visit. He enrolled at FSU earlier this week as a rising redshirt junior and is expected to compete for a starting position at either tackle spot this spring.
The sound of classmates laughing at his dream of making it as an FBS athlete, it still sticks with Williams years later. But, now that he's achieved his goal, he can look back at that time with a sense of accomplishment rather than resentment.
"All I've been through to get to this day, I can say with a smile that it was worth it," Williams said.
Zach Blostein of Noles247 contributed to the reporting of this story.