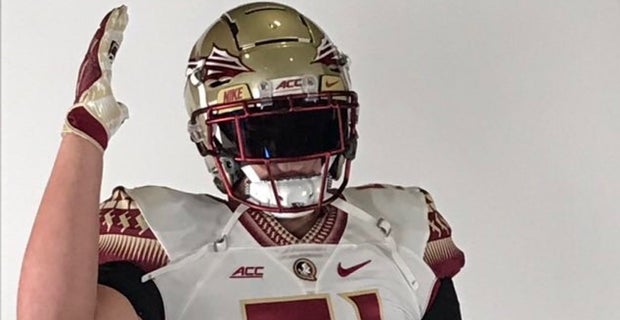 Madison County three-star offensive lineman Zane Herring made his way to Tallahassee on Saturday for another visit to Florida State. Herring saw the 'Noles in game-action multiple times during the season and has attended several of their camps and events as well. This visit was a more serious one however, as Herring is in the latter half of his junior year and is starting to get serious about the recruiting process.
"Toured around campus, went through academics, photo shoot, checked out the weight room and had a meeting with coach Frey and other OL," Herring stated regarding what he did on the visit.
Arriving in the morning, Herring was able to meet many of the class of 2019 visitors who were also on campus at FSU today. He'd interacted with many of them over social media in the past, but getting to meet many of them in person was important to Herring.
"Great vibe, met a lot of guys I've seen on Twitter and it was pretty great getting to know them."
Florida State's offensive line coach, Greg Frey, had Herring sit in on a position meeting with several of the other offensive line recruits on campus over the weekend. Frey covered a multitude of topics regarding the offseason.
"He talked about the 4 quarters of the off season and preparation for the season and conditioning our body's and getting ready for everything the season holds," Herring noted on what Frey said during the meeting. "He also talked about taking responsibility of everything and maturing."
Towards the end of the visit, Herring was able to speak with head coach Willie Taggart for an extensive period of time. Their talk didn't touch solely on football.
"Yeah for about 30 minutes," Herring said of how long their talk was. "It was mainly us talking about school and academics and being accountable for yourself and others and of course football."
The 6-foot-5, 300-pound offensive lineman wanted to see how official visits worked, as he was surrounded by several recruits who were in the process of them.
"It's about the same as unofficial visits they just get everything paid for," Herring noted on what he learned about official visits on his trip.
Herring tells Noles247 he doesn't plan to make a decision until he takes all of his official visits. The likely destinations for his official visits, at this time, are Florida State, Tennessee, Auburn, and Virginia.
Florida State currently leads on the 247Sports Crystal Ball, for Herring, with four predictions.
Herring ranks as the No. 423 prospect and No. 48 offensive-tackle in the nation according to the industry-generated 247Sports Composite Rankings.