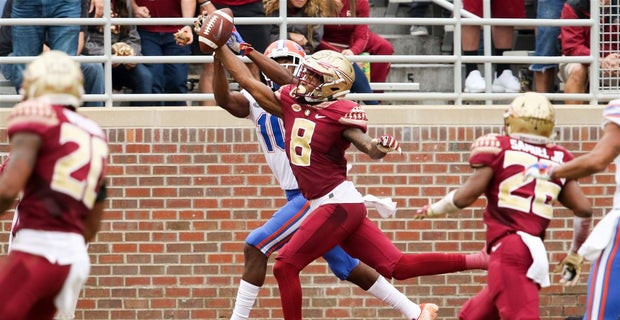 Florida State's secondary is full of former blue-chip recruits.
But can the Seminoles turn the talented defensive backs into steady producers?
Here's a look at FSU's star-studded secondary heading into spring practice…
Spring Inventory
Sr. CB Levonta Taylor
(33 career games; 40 career tackles, 3 INT, 7 PBU, and 3.0 TFL)
Sr. CB Kyle Meyers
(38 career games; 72 career tackles, 3 INT, 10 PBU, and 5.0 TFL)
Soph. CB Asante Samuel Jr.
(12 career games; 17 career tackles, 9 PBU)
Soph. CB A.J. Lytton
(10 career games; 14 career tackles, 1 INT, 2 PBU)
Jr. DB Stanford Samuels III
(15 career games; 85 career tackles, 6 INT, 9 PBU, and 4.0 TFL)
RS Jr. DB Carlos Becker
(19 career games; 12 career tackles, 1 INT)
RS Fr. DB Isaiah Bolden
(1 career game)
FR DB Akeem Dent
NA
Jr. S/LB Hamsah Nasirildeen
(25 career games; 120 career tackles, 1 INT and 5 PBU)
Soph. S/LB Jaiden Lars-Woodbey
(12 career games; 59 career tackles, 4.5 TFL and 1.0 sack)
Jr. S Cyrus Fagan
(19 career games; 30 career tackles and 2 PBU)
Fr/ S Raymond Woodie III
NA
What We Know
–FSU returns every defensive back other than starting safety A.J. Westbrook. Five defensive backs have starting experience, six if you count hybrid defender Lars-Woodbey.
–Lars-Woodbey will get action at safety this spring after earning freshman All-American recognition at Star linebacker last season.
–Samuels closed the season at cornerback and appeared to make a case that playing there full-time is his best fit. He has starting experience at safety and corner.
–Nasirildeen was at his best when attacking downhill, leading the team with 91 tackles. Finding a way to get him in position to do so — whether it's at boundary safety or even Star — makes sense.
–Taylor was a top-tier corner in 2017, but played with a back injury last season.
What We Don't Know
–Does Dent, one of the country's top recruits from the 2019 cycle, play corner or safety? He's expected to make an immediate impact wherever he lines up.
–Does Taylor get back to his 2017 form as he returns from injury?
–Does Samuel Jr. take the next step after settling in as a starting-caliber corner as a freshman?
–Does FSU keep Samuel at corner or move him back to field safety?
–Can Nasirildeen improve his instincts in coverage to become a more complete safety? Where does FSU play Nasirildeen with Lars-Woodbey at safety?
–Is Becker healthy after a couple injury-plagued seasons? If so, does he get a look at corner or safety?
The Focal Point
FSU's secondary will go as Samuels goes. He's entering Year 3 and will be looked at as a leader on defense. Samuels has played well through this point of his career and has the ability to play a couple positions.
Now FSU needs him to elevate his play and go from good to elite. Whether it's at corner — his natural position — or safety, Samuels must set the tone for the rest of the secondary.
A Breakout Candidate
Dent is lauded for not just his athleticism, but also his physicality and tenacity. Coach Willie Taggart is viewing Dent as someone who can lead a culture shift with his competitiveness.
He's fluid enough to play corner, but also can be an enforcer type at safety. This versatility could be explored in the spring, and could allow him to play very early.
Previous Position Previews
Building with Blackman at QB | Getting the RBs back on track | The next step for young WRs | A renewed focus on the TEs? | Overhauling the offensive line | Who's next on the DL? | Hope at LB |